Joe Miller Buries a Tweet on Friday Afternoon
It's a time-honored tradition: if you've got something controversial you need to do, or some document you need to release, do it as close as possible to 5 p.m. on a Friday. No one will really notice, because no one's really following the news, and won't be following it until the Sunday talk shows or, for most ordinary people, Monday morning. In keeping with that tradition, Alaska Senate candidate Joe Miller picked Friday afternoon to tweet this: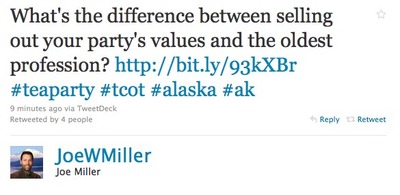 The bit.ly link is to this 
Daily Caller story
 about Alaska Libertarians mulling an option to put Sen. Lisa Murkowski on their Senate ticket.
The tweet has since been deleted; Miller has apologized, 
tweeting
:
Please accept my apologies. Staffer trying to encourage Libertarians not to sell out. 

http://bit.ly/93kXBr

 #teaparty #tcot #alaska #ak