Fred Karger: The Gay-Rights Bogeyman of the GOP Presidential Race
The Republican presidential field has gained a new entrant, though he's not your typical White House aspirant, and the White House may not be a realistic destination for him.
Fred Karger, a retired GOP strategist from California, has formed an exploratory committee in his home state and will soon begin raising money for a 2012 presidential bid.
If you've never heard of Karger, you're not alone. His campaign slogan is "Fred Who?" and, while his out-of-the-blue presidential ambitions may sound like the delusions of a political loon, Karger appears to know what he's doing. And what he's doing is something different from what other Republican presidential hopefuls, the big names especially, are working on.
Fred Karger is no lunatic (at least as far as I can tell), but an experienced political strategist who has done campaign work for both Ronald Reagan and George H.W. Bush, helping to run the Willie Horton victims campaign to discredit Michael Dukakis in 1988. He is also gay, though he kept that under wraps through decades of work in Republican political circles, until around the year 2000.
Here is his goal: to gain grassroots momentum in New Hampshire and Iowa, eventually reaching the stage of the nationally televised debates put on by local newspapers and TV stations in those two states--the debates that see about a dozen candidates on stage, the ultra-long-shots along with the frontrunners. Once there, he plans to do one thing: make a ruckus about gay rights and why the Republican Party doesn't officially support them.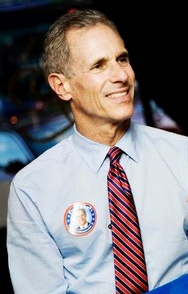 To do this, Karger figures he'll need somewhere in the neighborhood of $5 to $6 million, a sum he hopes to raise from a network of gay-rights supporters he's built up over the past few years. Right now, he has structured his political operation as a 501(c)4, meaning he has to report to the IRS but not the Federal Election Commission; he has two people working for him, "helping out," as he puts it, and he pays their expenses.
Their mission: determine the criteria for getting into those debates and find out how Karger can meet them. To that end, Karger has been traveling to Iowa and New Hampshire, meeting with editorial boards. He's been to 13 states plus the District of Columbia, holding town-halls and meet-and-greet events in Mexican restaurants and gay bars. His first took place at Margaritas, a Mexican restaurant in Keene, New Hampshire; according to Karger, 50 people showed up.
"I beat John McCain's 19 at his first town-hall meeting" before the 2008 campaign, Karger points out.
Most recently, Karger led a charge against the Mormon Church for its involvement in the Prop. 8 anti-gay-marriage initiative in California in 2008, unearthing its funding of the Prop. 8 campaign and campaigning to expose that funding and the Mormon Church's approach to homosexuality.
"There's two reasons I can do this," Karger told me last month when he stopped by the Atlantic's offices on a trip to DC. "One is I'm openly gay and that's never happened before--never before has an openly gay candidate run for president."
The other, as he put it: "Exposing Mormons." Should Karger's run gain attention in Iowa and New Hampshire, his prime target for ruckus-making will be Mitt Romney, who, he says, follows a severe anti-gay ethos as an "obedient" Mormon.
If Karger makes it on stage in those debates, he'll join a line of single-issue candidates that have had some degree of success over the years. In 1996, Alan Keyes ran as a Republican to push abortion to the fore; in 2004, Dennis Kucinich ran as an anti-war Democrat; in 2008, it was Republican Congressman Tom Tancredo and his hard line on immigration. Each made their own waves. Tancredo, most recently, made it on-stage for early debates but dropped out in late December 2007, having spent a total of $5.8 million.
Karger's expedition, should he follow through with it, would come as paradigms on gay rights seem to be shifting in the Republican Party. Social conservatives no longer constitute the locus of power in the national Republican landscape; fiscal conservatism and small-government near-libertarianism have arisen as the impulses of the GOP base that Republican politicians feel most compelled to satisfy. Laura Bush's acceptance of gay marriage was taken by some as a sign that perhaps President George W. Bush, privately, might accept it too. It's a sometimes open, sometimes closeted support for gay rights within Republican ranks that Karger will seek to mobilize in late 2011 and early 2012.
For now, the retired consultant is in talks with a fundraiser and, having formed the exploratory committee last week, can begin to raise money toward the presidential goal. Once he announces his candidacy, he will have to begin telling the Federal Election Commission just how much he's raising, and we'll see how successfully he can activate gay-rights supporters and tap their wallets toward his $5 to $6 million goal.
And to that end, Karger appears to be utilizing his considerable political experience. If we see him on stage in late 2011, it will be a testament not just to the sentiments of Republican voters on gay rights, but to Karger's ability to maneuver his way into the public eye.