Battle of the Obama Birthday Cards
It's President Obama's 49th birthday, and while birthdays are typically cause for merriment, cake, and sometimes candles and singing, Obama's birthday is, of course, cause for political jabbing.
The Democratic National Committee is circulating an
online birthday card
for Obama, which its supporters (and supporters of Organizing for America) can sign online, below Michelle's name. Nice gesture; good way to keep in touch with supporters. Signing the card also directs those supporters to a page suggesting they donate to the DNC, providing a form with several options for monetary commitment.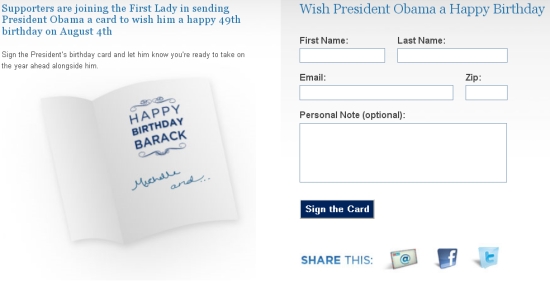 The Republican National Committee, meanwhile, sent its supporters a
menu of snarky cards
to forward along, purportedly addressed from various Democrats to Obama. One, bearing Rod Blagojevich's photo, references the former governor's corruption trial; another, from Nancy Pelosi, references the ethics investigations into Charlie Rangel and Maxine Waters. (The RNC does something similar every Valentine's Day.) Sending a card prompts the suggestion of contributing to the RNC.