Pentagon PR Strategy: More Briefings, Fewer 'Win' and 'Lose' Phrases for Afghanistan
The Pentagon has outlined a new strategy to "communicate U.S. policy objectives" in Afghanistan and "manage expectations" of the American public about the progress of the nine-year-long war.
In a three-page memorandum for the Secretary of Defense and the Chairman of the Joint Chiefs of Staff, Douglas Wilson, the new Assistant Secretary of Defense for Public Affairs, outlines the new approach, which was developed because the Defense Department recognized the need for a more aggressive press outreach approach amid signs that the progress of the war had stalled.
Defense Secretary Gates found that stories from reporters embedded with troops, valuable as it was, tended to focus on gritty warfighting; he wanted to provide those reporters and others with a better comprehensive view of the theatre, according to Geoff Morrell, the Pentagon spokesman. The guidelines were drawn up before Gen. Stanley McChrystal was fired; they were intended to increase his communication with the Pentagon press corps, albeit in an orderly fashion.
The new objectives are framed by "an understanding" that key milestones in the conflict, including the counterinsurgency approach to regain control of Kandahar, the administration's policy review in December, and the July 2011 transition/withdrawal date, "will also frame public and decision-maker perceptions."
Notably, the memo suggests that "win-lose terms need to be supplanted by better metrics and measurements of progress." (In testimony to Congress, commanding general David Petraeus and undersecretary of defense for policy Michelle Flournoy have already emphasized this shift.)
Members of the Pentagon press corps have been asking for more briefings from senior commanders in the region, and it's in the Pentagon's interest to provide more context on a difficult and complex mission.  When Petraeus was commanding US forces in Iraq, he provided near weekly briefings.
"We're attempting to bring more information to the public," Wilson said in an interview from Bahrain. "We can't just be sporadic and we need to supplement what's going on in [Afghanistan] with more continuing  coverage and briefings for the Pentagon press."
Recently,  Gates
ordered all public affairs
officers to notify his office before their bosses cooperate with profilers and interviewers.
That was a consequence of
McChrystal's Rolling Stone interview, which included disparaging remarks about the mission and the commander in chief from anonymous aides.  (Officials said the policy change was in the works before the interview.)
This July 2 memo, a copy of which was obtained from a consultant, aims to "put military and civilian initiatives in ongoing, regular, comprehensive and credible context for American and other ... nations public and public opinions leaders via press, broadcast, Internet and other communications channels."  It also calls for a new way of engaging smaller press outlets who don't have the money to send correspondents overseas.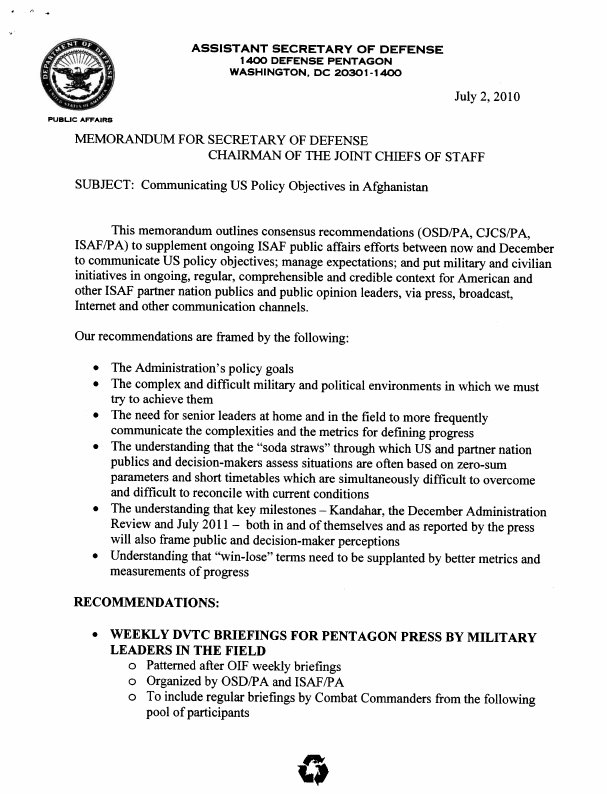 Specifically, Wilson recommends more briefings for senior general officers with Pentagon press corps as well as with battalion commanders working with tribal and local communities -- also, occasional "background only" briefings with senior policy makers and the chairman and vice chairman of the Joint Chiefs of Staff.
Point two: Wilson wants more "consistent media engagement by our most credible interlocutors" -- Secretary of Defense Robert Gates and the JCS chairman, Adm. Mike Mullen.
Also: "regular Pentagon press briefings" by "P4" -- that is, Gen. David Petraeus, at least every six weeks.
To help "select embedded press," Wilson recommends more briefings -- pre- and post-embed -- by senior officials in Kabul.
Finally, he recommends better coordination between public affairs officers from across the U.S. government and other NATO countries.