Internal Document: The Afghanistan McChrystal Left Behind
One of the reasons why Vice President Joe Biden is comfortable with the direction of U.S. strategy in Afghanistan is because it combines two approaches that are generally said to be in tension: population-centric counterinsurgency operations on the one hand and targeted counterterrorism strikes on the other. U.S. officials have praised Gen. McChrystal for blending the two together, although they have provided few details about how special forces troops in joint task forces tend to operate.
An internal but unclassified briefing prepared for NATO defense ministers provides a unique window into the melange of tactics that forces are using to clear the Taliban underbrush in Afghanistan. The briefing was put together by McChrystal's headquarters staff several weeks before he was forced to resign as commanding general because of his staff's intemperate comments in a Rolling Stone interview.
In March, April, and May of 2010, special operations forces "removed" 121 insurgent leaders and detained 505 insurgents in a total of 22 discrete operations. 14 of those operations targeted persons of interests. The footprint left by our troops is lethal, but not as lethal as one might expect: 69 "enemy" were killed in action and 51 detainees who provided actionable intelligence are being held in custody.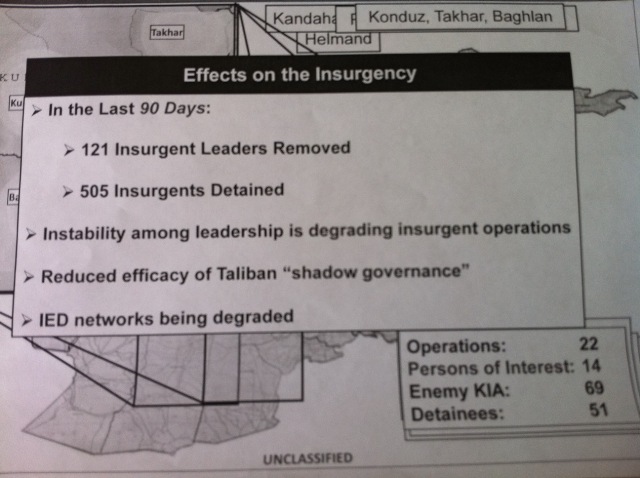 The briefing notes that the country has seen an 88 percent rise in violence since last year, and a slide shows that "kinetic density" -- another word for violent encounters -- is concentrated in localized areas within the central Helmand Province and near Kandahar. NATO forces are focused on protecting civilians in eight discrete areas, including a large, salamander-shaped, population-dense region that cuts across both provinces. By June of 2011, will the economic corridor -- the main trading routes -- be protected? That seems to be a real metric.
The successes over a year's time have been modest, with Marja remaining an insurgent narco-hub. The omnipresent threat of IEDs remains, although "attitude of population trending positive," a slide notes, as ISAF makes its presence known and the Afghanistan army increases its capacity. Rudimentary government systems have formed in five key areas in central Helmand, although their functioning is limited by the availability of equipment, material, and basic security.
According to the briefing, "instability among leadership is degrading insurgent operations" and also degrading improvised explosive device networks, although plenty still exist.
McChrystal cites the need for more qualified Afghan army trainers. In June, only 846 were on the ground, with 660 more yet to arrive.
The slide for Kandahar province simply sets up the challenges: inequality, a resilient insurgency, a complex tribal structure that isn't fully understood even by the military's Pashtun experts, very strong power brokers and very weak governments -- and 850,000 civilians in the middle. By August 2010, the number of coalition forces in the region will have doubled, and the number of ANSF forces will have quadrupled.