FEMA's Helpful Mobile App
FEMA is the government, and they really are here to help.
Today, FEMA launches a useful application that could, potentially, save lives in a natural disaster. Before we get ahead of ourselves, the relaunch of
m.fema.gov
does not include instantaneous communication tools, but that's what the agency is planning. As hurricane season approaches, FEMA administrator Craig Fugate wanted to make sure his department's mobile disaster assistance registration platform was ready, secure, and available.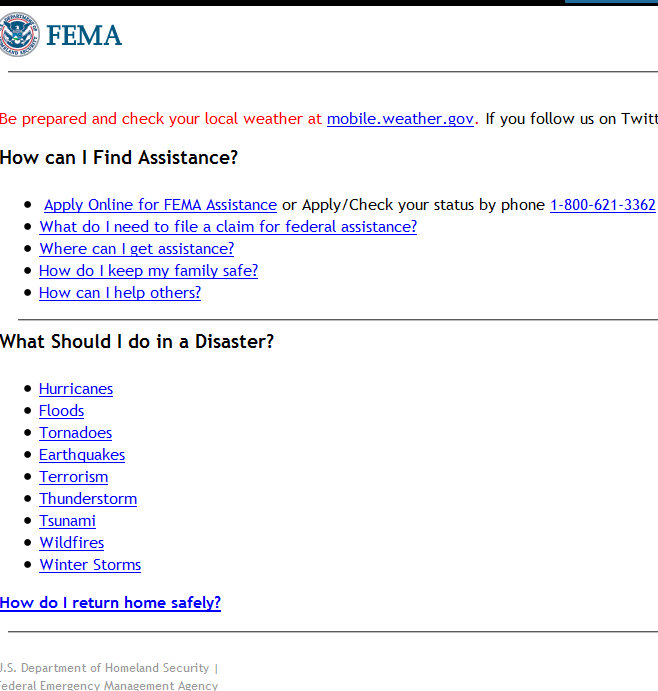 FEMA allowed me to test it, which I did from my iPhone. It took about 15 minutes for me to register for my fictional disaster. I worried about two things: bandwidth and security. If tens of thousands of people applied for assistance at the same time, would FEMA servers be able to handle it all? And would the information be secure? Fugate, in an interview, said that the mobile platform was built on top of a highly secure disaster assistance infrastructure that could scale up quite quickly in the event of an emergency.  He noted that the program requires users to answer a security question with the aim of weeding out spammers and cyber criminals.
The need for a mobile platform for disaster assistance is obvious. "People don't need to look at our org chart in the middle of a disaster," Fugate said. "And we really wanted to go into the hurricane season wanting to provide a web experience for mobile users that was useful for survivors."
When the power's out, often only mobile devices work (and work off of batteries.) So FEMA worked to require as little information as possible, recognizing that users would be stressed, would be typing on tiny touch screens or keyboards, and wouldn't have much battery life.
Conventional disaster relief registrations via telephone and regular website will also work.  Flooding in Georgia was a tipping point for FEMA last year. Online applications shot up 50 percent, in part because the flooding affected both high and low income areas.
I asked Fugate about the future of FEMA's interactive disaster relief management. He told me me about a warning system that FEMA is working on in conjunction with the Federal Communications Commission and cellular carriers called the Integrated Public Warning System -- I-PAWS -- that would use a common alerting protocol to push out information from the weather service.

And he knows that, post-disaster, people will need to know where to go -- and FEMA is creating an app that would allow people to find the nearest disaster assistance and relief center, "just like you can find a Starbucks or your movie theater."

FEMA really seems to be going out of its way to make sure that the disaster survivor is the end user that software engineers keep in mind: "How can I provide you with the best information and the best format for you?" Fugate asks.