On a Saturday in late March, 8,000 Tea Partiers gathered as wind whipped across the open Nevada desert, milling around their RVs, sitting in camping chairs and waving signs.
They had assembled in Searchlight, the hometown of Senate Majority Leader Harry Reid, to voice their displeasure with the new Democratic regime in Washington and to receive some encouragement from Sarah Palin, who would rally the crowd, her speech notes flapping in the wind.
The Searchlight rally would mark a turning point in the burgeoning Tea Party movement. It would be Palin's second-ever appearance at a Tea Party event, an appearance for which she would not be paid, despite her rumored speaking fee of $100,000 (discounted to $75,000 if held on the West Coast).
And it would mark the true ascension of a rising political group--the California-based Tea Party Express--which put on the rally to launch its third Tea Party-themed bus tour, a trip that would take it across 28 states, from the southwest desert through the great plains and up along the Great Lakes to New England, then down the eastern seaboard to Washington, DC for a rally on Tax Day, April 15.
By the end of the tour, Tea Party Express would generate valuable coverage on Fox News and other cable outlets, and it would cement its position as one of the most influential organizations attached to the Tea Party movement--a conduit for energy, money, and support that can make or break candidates for federal office.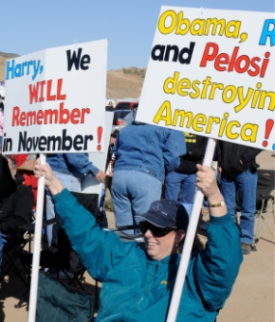 Coincidentally, it is Sarah Palin's Tea Party group of choice. To date, the former governor has spoken at only three events organized by national Tea Party groups: two Tea Party Express rallies and the Nashville convention put on in February by a group called Tea Party Nation. While Palin charges everyone else for her speaking appearances, she does not charge Tea Party Express. After appearing for free at the group's rally in Searchlight, she would take the stage again in Boston, for another no-fee speech, at a big Tea Party Express gathering on April 14.