Pentagon: Information Ops 'Plagued With Confusion'
The Pentagon's management of information operations and strategic communications "has systemic problems" and only works on the battlefield "in spite of itself," an internal report has concluded.
After the New York Times
published a story
about how a Department of Defense employee named Michael Furlong allegedly used Pentagon resources to fund a covert spying ring, Secretary of Defense Robert Gates ordered an internal review of information operations, which the Pentagon defines as "a military function integrating various capabilities to achieve impact in the information environment." Traditionally, IO has encompassed all overt and covert means of influencing opinions, perceptions, and tactics on the battlefield, whether via operational security, electronic warfare, military deception, psychological operations, or offensive and defensive cyber-space operations.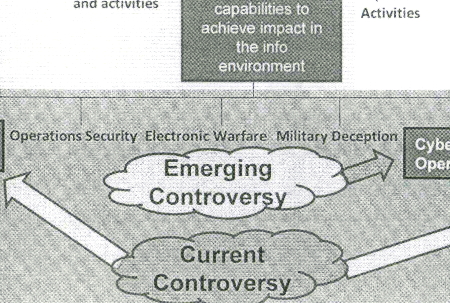 Click here to view the full chart
A summary of conclusions from that review has been provided to the Atlantic.
It calls for a "rebalancing" of information, and "adjustment and clarity" in authorities -- the DoD's way of saying that few senior managers know what IO is, who does it, or for what purposes. Leadership and oversight exist, the report concludes, but IO is "fragmented at the top." Even though the Pentagon is "plagued with confusion" over information operations, military commanders in the field use it quite effectively, the report concludes.
The report obliquely mentions "some 'jewels' that must be protected," a reference to covert intelligence programs.
The report distinguishes information operations from "strategic communications," defined as a "U.S. government process combining words and actions to support the strategic narrative," but notes that senior officials often use the two terms interchangeably -- and "wrongfully."
According to the report, the Office of the Secretary of Defense is scrutinizing all of the contracts that the Joint Information Operations Warfare Center, where Furling worked, has taken out. Located at Lackland Air Force Base in Texas, the JIOWC is the focal point for the military's information operations activities, which often use contractors. The Pentagon is also trying to determine which JIOWC programs, most of which are highly classified, are better carried out by intelligence units or by other government agencies.
The report calls for Gates to designate an executive agency for information operations and make sure that IO operations have sufficient personnel. It also tasks Mike Decker, Gates's assistant for intelligence oversight, with a full audit of IO contracting procedures.
The conclusions will be interpreted as criticism of the U.S. Strategic Command, which runs information operations, space and nuclear forces, and the cyber command. In aggressively pursuing its vision of IO, STRATCOM managers may have crossed departmental lines. Gen. Stanley McChyrstal, the commanding general of the international security assistance force in Afghanistan, and his intelligence chief, Maj. Gen. Michael Flynn, have complained about how STRATCOM operations are not well integrated into the country's overall intelligence strategy for the region.
In 2007, Gates, newly minted as Defense Secretary, joked that the U.S., which had invented public relations, was "miserable at communicating to the rest of the world what we are about as a society and a culture, about freedom and democracy, about our policies and our goals."   He called it "embarrassing."
"Strategic communications, information operations and psychological operations have been a mess for years, and we need top commanders to finally focus on this because we're too often getting beat in the battlefield," said a consultant who works on sensitive IO issues and who has seen the report.

During the Bush administration, operational efforts in the war on terrorism were focused on killing the bad guys. Strategic communication was left to political advisers like Karen Hughes, who worked in the State Department. President Obama is even more focused than Bush was on the operational efforts to kill bad guys.
The Pentagon finds it frustrating that Obama's National Security staff believes that the President's speeches and outreach are sufficient basis for an offensive information campaign against Al Qaeda. Indeed, they believe that the lack of strategic guidance for information operations may be one reason why battlefield commanders and Pentagon officials decide to freelance. (The White House doesn't want to plan offensive IO operations.) 

The President's National Security Strategy, released two weeks ago, focused heavily on the need for strategic outreach, and Secretary Gates has ordered his planners to focus largely on IO reorganization for the 2012 budget cycle.
Pentagon officials worry that the public perception of chaos in the realm of Information Operations will give Congressional appropriators the chance to cut IO's budget. At a meeting of senior officials in late May, Brigadier General John Davis, the deputy commander of the Joint Task Force-Global Network Operations, described Gates as being "sensitive to budget issues on the Hill," according to the notes of a participant. Gates will prioritize Information Operations in the 2012 budget, Davis said. He also said that U.S. adversaries are quite agile in the IO environment and often "outmaneuver" the U.S. in shaping and influencing opinions. 
Pentagon spokespeople did not return emails seeking comment.