No, Health Care Reform Is Not Very Popular
Are Americans coming around on health care reform? Some HCR advocates are sounding pretty sanguine. "Health care reform getting more, not less, popular," writes Ezra Klein, and Wonk Room's Igor Volsky follows up with a post: "The media still pretending that health care reform is not popular."
Is health care getting more popular? Is the media blind? Bring on the polling aggregations!

Guys, that looks like a flat line. From one supporter of health care reform to another: health care reform is not getting more popular. And this graph proves it. The latest Gallup poll cited by Ezra and Igor did not find steadily rising support; it found a small statistically insignificant uptick. Gallup's own conclusion: Americans are "equally divided in their reactions to Congress' passage of healthcare reform legislation earlier this year." Worse, as WSJ's Susan Davis points out, "independent voters continue to lean against the overhaul, 51%-43%, also largely unchanged from April."
Republicans hate the bill; young people like it; seniors are wary; independents are divided. You could have written that sentence last November, last March or last hour. Health care reform is still extremely controversial, and not particularly popular.
Update: Jon Chait sums up, "Oldsters hate it, everybody else loves it." Here's the Gallup chart: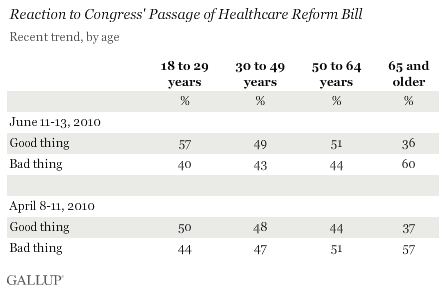 Love? Fifty percent approval across the 30-64 years is love? I guess I don't know the meaning of love, as a percentage approval of legislation, but gun to my head, I think I'd pick a higher number. Sixty percent? Seventy?
I'm not saying this to be glib. I approve of 90 percent of what Ezra, Igor and Jon say on the merits of health care. You could even say I love their positions on health care. But it seems to me that we're making a big deal about a poll that is either redundant or not particularly good news, for Democrats, or the legislation.