Government Debt Scares People as Much as Terrorism
Gallup released a new poll last night about national priorities, and terrorism and the federal government's debt are neck-and-neck atop the list: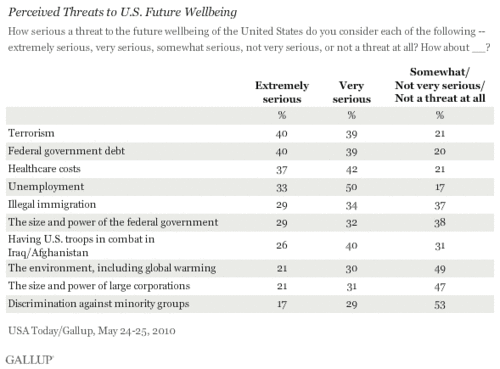 Note the phrasing of some of these items. "Unemployment," surprisingly, comes in fourth, but it evoked a lot more urgency when NBC/WSJ called it "job creation and economic growth"--it ranked first among national concerns by a solid 15 percentage points (respondents could only choose one issue) in an early May survey.
"The environment, including global warming" ranks low on the list, which may come as a surprise given the massive oil spill in the Gulf. Since the word "energy" wasn't used, it's tough to gauge from this poll how respondents feel about the urgency of energy reform, compared to other issues.