Can Democrats Keep Blaming Bush?
It's been a Democratic mantra since 2003 at least: George W. Bush is messing everything up really, really badly. Vote for us, and we can finally turn this thing around.
Democrats still believe they're right to harp on Bush and the pre-2006 GOP congressional majorities. President Obama talks about the deficits he inherited; he and other Democrats say a lax regulatory attitude caused the crash of the U.S. financial sector. And House Speaker Nancy Pelosi, one of the party's fiercest anti-Bush crusaders, who led the new Democratic Congress in numerous confrontations with Bush and seemed to have quite a chilly relationship with him (though if memory serves, the Dalai Lama cunningly made the two shake hands during a ceremony at the Capitol in 2007, when he was awarded the Congressional Medal of Honor),
recently told Chuck Todd
that the political value of Bush-blaming will only run out "when the problems go away."
Potential Democratic messages involving criticisms of the past GOP regime failed against fictitious Republican talking points when tested in a 
poll of 1,200 likely voters from the 70 most competitive House districts for 2010
 released today by Greenberg Quinlan Rosner and Public Opinion Strategies. Bush wasn't the centerpiece of any of these talking points, and they involved more than simple Republican-bashing, but these extended talking points failed against potential Republican messages by around 10 to 13 percentage points.
A fictitious Democratic us-vs.-them talking point, contrasting Democratic plans with the policies of the Republican era, failed 52%-39% against a Republican talking point that led off with a statement about Democrats living in the past.
But the survey has some important data that cuts directly against those message-testing results: Americans do think Bush is responsible for the current state of the economy.
In the most competitive Democratic-held House districts surveyed, 46% said Bush is responsible for current economic problems while just 36% said Obama is. In less competitive Democratic-held districts, it's 50%-35%. And in the 10 competitive Republican-held districts surveyed, Bush is held accountable 52%-37%. Here are those results in graph form
Greenberg's PowerPoint
: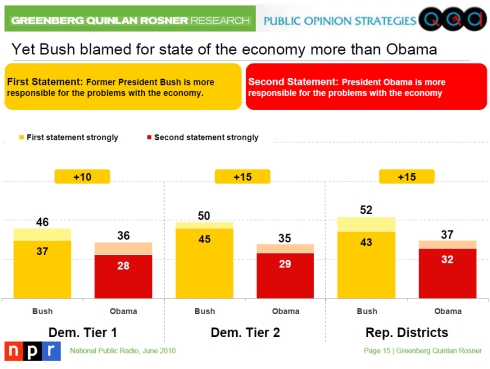 So there is a mixed message for Bush-bashing in this poll. Perhaps it's that Americans blame Bush, but they're tired of hearing it from Democratic politicians. Or perhaps it's that as Democrats seek to blame the former president, they must do so artfully and in a way that doesn't sound like complaining.