"The Grip of Fossil Fuels"
Channel surfing before bed on the (controlled) Chinese TV lineup just now at 12:45am. Costume dramas. World-cup recap. Shanghai stock-exchange report. Women's badminton, Indonesia v Laos or something. Physical-humor game show. The usual fare.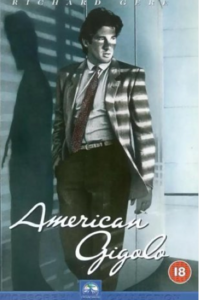 Then come across an improbable HBO-Asia airing of
American Gigolo,
at just the instant a progressive-minded politician is inspiring a California crowd by saying "we have the technological means and know-how to help free America from the grip of fossil fuels."
That was 1980. Thirty years later -- last night-- we heard from our most prominent progressive politician, "For decades, we've talked and talked about the need to end America's century-long addiction to fossil fuels."
As a descriptive matter, he's exactly right. As a motivational statement, will this year's exhortation be any more effective than the one in the film? I couldn't help wondering whether somebody would be channel surfing in, say, Laos thirty years from now and come across an old clip of Obama saying those words. I hope the resonance then is more positive than what I'm feeling now.