One man's objection leaves 80 posts vacant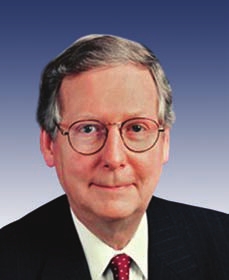 Depressed about how hard it is to get first-rate people into federal jobs, so they're ready to handle emergencies like the BP oil disaster? Wondering if our systems of self-government really are up to the challenges of the moment? Curious about whether people who complain about Senate obstructionism and tyranny-of-the-minority are exaggerating?
Consider the works of Sen. Mitch McConnell, R-KY (below), on the Senate floor 36 hours ago.
As you may have heard elsewhere, the Obama Administration has been relatively slow in vetting and choosing nominees for many of its important posts -- but then has encountered extreme slowness from the Senate in approving the appointments once they get made. If you go to this White House site, you'll find a searchable, sortable list of all 820+ nominations and appointments made so far in the Administration; about 240 have not even come up for a Senate vote. If you go to this U.S. Senate site and click on the link for "Executive Calendar," you'll get a long PDF showing in its "nominations" section the scores and scores of people who have come through committees but not received a vote on the Senate floor. (Direct link to the PDF here.)