South Carolina Blog Says It Has Evidence of Haley Affair
After alleging yesterday that he had an affair with Republican South Carolina gubernatorial candidate Nikki Haley, blogger Will Folks's website is keeping the story going. Today, the site's editors posted a statement accusing Haley of "engag[ing] in a smear campaign against us" by accusing Folks of lying in order to smear Haley. Haley's campaign hasn't asked FITSNews to retract Folks's original post, the editors say, and they allude to evidence of Folks has of his alleged affair:
We have knowledge that a record exists which will document our claim.  Parts of this record are already in our possession, other parts are in the process of being obtained.  All of this is obviously in addition to whatever other witnesses/ information has been obtained by the parties originally pushing this story.
Folks, the founding editor of the FITSNews site, has said he won't discuss the matter any further.
The site also
posted
a photograph of Folks, Haley, and scandalized Gov. Mark Sanford, posing together in 2007: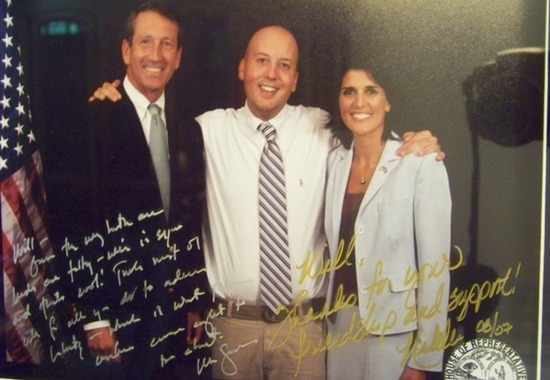 Folks, who is referred to as "Sic Willie" on the site (here's his bio), and the FITSNews editors seem to be reveling in all this.