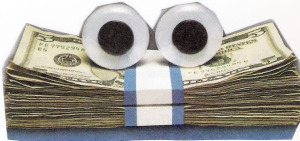 In the new issue of New York magazine, Gabriel Sherman takes a revealing look at the business of being Sarah Palin. Upshot: it's lucrative. He estimates that Palin, who he dubs "the president of right-wing America," earned $12 million over the last year. What really jumps out, though, is not the size of Palin's haul but her overweening money lust, which would be at home on the Goldman Sachs trading floor. Others have cashed in on political fame, Gabe notes.
But no one else has rolled politics and entertainment into the same scintillating, infuriating, spectacularly lucrative package the way Palin has or marketed herself over multiple platforms with the sophistication and sheer ambitiousness that Palin has shown, all while maintaining a viable presence as a prospective presidential candidate in 2012.

A couple notes. The multi-platform sophistication comes not from Palin but from the motley circle of enablers who have surrounded her, as intent upon profiting from her as she is herself; Palin's contribution is mainly saying yes to the many offers presented to her. The article is chock full of Palin porn: her speaking fee ($100,000 a pop, plus diva treatment); her preferred mode of travel (Lear jet); her next headache (Levi Johnston is "writing" a book about her); and, my favorite detail, her three-level, 6000-square-foot, no doubt tastefully decorated new home that was already under construction when Gabe paid a visit. Among other things, the article makes clear that the desire for money, not an imminent scandal, led Palin to quit her governorship.
This all has significant political implications that tend to be downplayed or ignored when discussing Sarah Palin. Toward the end of the piece, Gabe goes right to the heart of the matter:
Why Palin would want to trade the presidency [of right-wing America]--and the salary--for a candidacy that faces possibly insurmountable political hurdles is a question to ponder.

Why indeed? Palin's prospects in the Republican Party are a good deal dimmer than her star wattage suggests. She's tallied middling performances in early straw polls and shows no inclination to embark on the grassroots work required of a presidential candidate. More to the point, this article makes clear that, were there any doubt, her preoccupying concern is "building her brand"--less in a political sense than a financial one. Palin may yet make a bid for the White House. But all evidence suggests that when the time comes to choose between earning money and running for president, Palin will choose money.
And she's hardly alone. The other surprise figure to emerge from the 2008 race, with almost as bright a political future as Palin, was Mike Huckabee. But he, too, is earning serious coin on the book, TV, and lecture circuit, and signaling that he won't run again. The candidate running the hardest for the White House, Mitt Romney, is also the only one who has secured a fortune. There seems to be developing an inverse correlation between the difficulty of running for president and the easy life that awaits those who fall just short. It's never been harder to grab the brass ring; and it's never been easier to quit trying.
(Image courtesy of Geico)