Financial Reform: It's Popular
Two thirds support more regulation, according to a new poll
Fiscal conservatives will tell you that more regulation is not the answer, but apparently most of the nation disagrees: a new poll from ABC News and The Washington Post finds that cracking down on big banks is wildly popular these days.
A full 65 percent support stricter regulation of banks, while 31 percent oppose it, as the Senate is set to hold its first procedural vote on financial reform later today. Here visual representation, from ABC: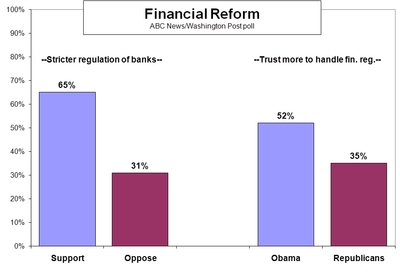 The poll finds the same margin of support for "much stricter" regulations (65 percent to 31 percent), as opposed to "somewhat stricter" regulations (51 percent to 43 percent) and no tighter regulations at all (26 percent to 72 percent).
The results come from an April 22-25 telephone survey of 1,001 adults nationwide.
It's worth pointing out that this doesn't, necessarily, mean the public will side with Democrats, despite their clear (52 percent to 35 percent) trust in Obama, over Republicans.
Republicans have criticized Democrats for not going far enough in regulation. Sen. Richard Shelby, the GOP's top negotiator, suggested on "Good Morning America" today that the Democratic bill has "too many loopholes," and Republicans have painted Democrats as perpetuating a bailout culture by instituting a tax on banks to pay for future bailouts. Ending "too big to fail" has been a centerpiece of the GOP messaging strategy.
The poll explains the competing messages of the parties, which are both struggling to appear tougher on banks than the other. The public will side with whichever party supports a stricter crackdown, the ABC/Post survey suggests.