Tea Partiers to Protest Obama in Iowa
President Obama will tout health care reform in Iowa City today, and Iowa tea partiers are planning to protest.
The Des Moines Tea Party is advertising a protest on the front
page of its website
today, with a photo of Obama in a doctor's lab coat and the message: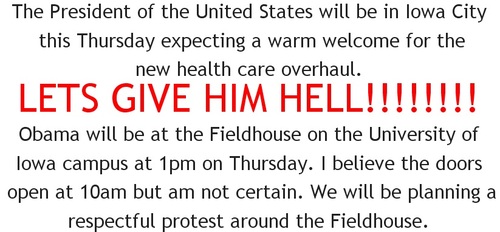 Ryan Rhodes, state chairman of the national group Tea Party Patriots and a member of the Des Moines Tea Party, says he has spoken with tea party organizers in Des Moines, Dubuque, Waterloo, and Spencer about bringing activists to protest Obama.
Rhodes says he has spoken with tea partiers in six different states, who also plan to attend.
It could be a big protest, or it could be a small one. Rhodes guessed that "probably around 1,000" protesters would attend. One conservative grassroots coordinator in DC said he would expect as few as 50 or as many as 500 to protest.
The president will speak at the University of Iowa Field House in Iowa City at 1 p.m. Central, 2 p.m. Eastern.