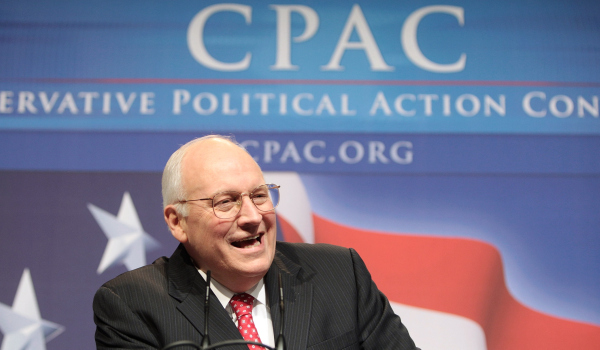 I was asked yesterday whether I would be going to
CPAC
, the annual Conservative Political Action Conference, which is currently being held a half-hour's walk from my office in D.C. It was a logical question, not only since the meetings are so close at hand but also because for five years I chaired CPAC.
CPAC brings together conservative activists from every corner of America. As national chairman of the American Conservative Union, a founding trustee of the Heritage Foundation, and director of the policy task forces for Ronald Reagan's 1980 presidential campaign, speaking at CPAC and shaping the program were high priorities on my personal agenda every year, even while serving in Congress.
But the answer to yesterday's question was "no." No, I'm not going to CPAC. And, truth be told, most of the folks there wouldn't want me there. They wouldn't think I'm a conservative; many wouldn't think Barry Goldwater was a conservative; many, had this been three decades ago, might have been seeking a "true" conservative to run against Ronald Reagan. I don't begrudge these activists their views and they are entitled to use the term "conservative" to describe themselves if they so choose. But the views many of them profess have little in common with the distinctly American kind of conservatism that gave birth to CPAC and the modern American conservative movement. Instead, what many of today's self-proclaimed "conservatives" proclaim is an ideology borrowed from what Donald Rumsfeld famously dismissed as "old Europe." Winston Churchill, one of Europe's better-known conservatives, was half-American and his incredible strength of character helped Great Britain survive World War II, but when asked to define conservatism, Churchill responded that conservatism was about reverence for king and church. But America has no king and has no national church. That distinction is crucial and one in which today's so-called conservatives have switched sides; crossed the ocean, if you will.
What distinguished modern American conservatism was that it had its roots not in the British kings, but in John Locke and Adam Smith and other champions of individual liberties and individual empowerment. European conservatism--the kind that has now become the rage for the American Right--was top-down and centered on state power. The rise of modern American conservatism, on the other hand, had a distinctly Madisonian flair, embracing the fundamentals of American constitutional limits on central authority. European conservatism found its voice in magisterial decree, religious edict, and acts of parliaments in which members may or may not have ever visited the communities they were presumed to "represent." American conservatism found its voice in a Constitution that placed every major power in the hands of the people, through their representatives, and ensured that those representatives would actually be residents of the communities that elected them. American conservatism embraced a Constitution that separated and constrained powers, that specified --highlighted--a few of the protected liberties of the people coupled with clear assertions that all undelegated powers--all other unsurrendered liberties--remained with the people rather than the government. A Constitution that placed unambiguous limitations, including direct prohibitions, on the attempted exercise of governmental authority.
Today there are few things that set a "conservatives'" teeth on edge more than a defense of "civil liberties;" yet that is what American conservatism was all about--protecting the liberties of the people. It was a system designed to protect the people from an over-reaching government, not to protect the government from the people. American constitutionalism was a historical high-point in recognizing individual worth. Stop at CPAC today and you will find rooms full of ardent, zealous, fervent young men and women who believe the government should be allowed to torture (we condemned people at Nuremberg for doing that), who believe the government should be able to lock people up without charges and hold them indefinitely (something Henry VIII agreed was a proper exercise of government authority). Who believe the government should be able to read a citizen's mail and listen in on a citizen's phone calls, all without a warrant (the Constitution of course prohibits searches without a warrant, but nobody cares less about the Constitution than some of today's ersatz conservatives).
I'm not at CPAC because I believe in America. I believe in liberty. I believe that governments should be held in check. I believe people matter. I believe in the flag not because of its shape or color but because of the principles it stands for--the principles in the Constitution, the principles repeated and underlined and highlighted and boldfaced and italicized in the Bill of Rights. The George W. whose presidency and precedents I admire was the first president, not the 43d. It is James Madison I admire, not John Yoo. Thomas Paine, not Glenn Beck. Jefferson, not Limbaugh.
Ronald Reagan would not have been welcome at today's CPAC or a tea party rally, but he would not have wanted to be there, either. Neither do I.
Photo credit: Robert Giroux/Getty Images