Fake "Chamber" Press Release Dupes Reuters
The headline, if true, would be a news story indeed: the U.S. Chamber of Commerce, according to a press release e-mailed to journalists this morning, had decided to reverse its opposition to strong climate change legislation. But that's false. Some unknown group decided to punk the Chamber. And in the process, at least one news organization, Reuters, fell for it.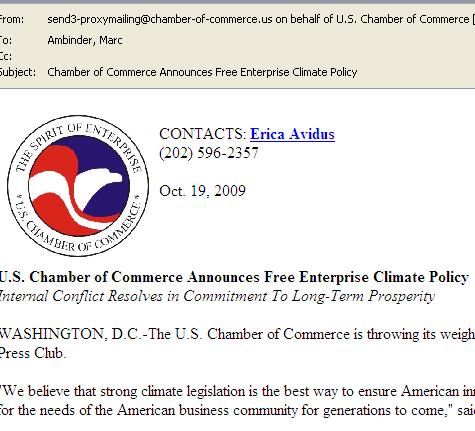 The news release, e-mailed about 11:00 a.m., linked to a "Chamber"
webpage
 -- a fake -- which, in turn, featured links to official Chamber sites. The spoof page features a short National Press Club speech, purportedly by Chamber President "Tom Donahue" -- his name is misspelled -- where he acknowledged that "[t]oday's momentous decision indeed comes after a difficult period - a very long one."
Then comes the comment from the Chamber spokesperson, one "Hingo Sembra."
"We believe that strong climate legislation is the best way to ensure American innovation, create jobs, and make sure the U.S. and the world are on track to reduce global carbon emissions, and to provide for the needs of the American business community for generations to come."
The rest of the speech is clearly fictional, although it borrows from "Donahue's" repertoire of colorful metaphors. "Donahue" said that Lehman Brothers "scuttled a century. They ate lamb, but were left without wool when the cold, hard winter set in."
"Climatologists tell us that if we don't enact dramatic reductions in carbon emissions today, within 5 years we could begin facing the propagating feedback loops of runaway climate change. That would mean a disruption of food and water supplies worldwide, with the result of mass migrations, famines, and death on a scale never witnessed before.
"Needless to say, that would be bad for business," the fake "Donahue" says.

"We at the Chamber have tried to keep climate science from interfering with business. But without a stable climate, there will be no business. We need business more than we need relentlessly higher returns."
Whatever soul-searching the Chamber might be engaging in following the high-profile departure of several companies, a wholesale reversal of this sort isn't in the cards. 
The fake domain name, chamber-of-commerce.us, is registered to "Support and Committment," Inc. of Malden Street in Manhattan. An e-mail to the contact listed has yet to be returned.