Why Hasn't the Glenn Beck Boycott Hurt Fox News?
This Glenn Beck boycott is fascinating. I wrote a post for Andrew Sullivan on the substance of the matter last week, and I think it holds up okay. Let me just say that I continue to be amazed that some people think there is a free speech issue here. It seems to me that the right to free speech does not give you the right to massive corporate underwriting. Glenn Beck can defend "the white culture" and call Obama a "racist" in poverty and in private.
What I'm interested now is the economics of the boycott. Thirty-six companies have apparently signed on. And while it appears that some of them never advertised with Beck in the first place (oops), many if not most of them did. To which Fox responds:
While the advertising boycott has generated substantial media coverage, Fox News said it has not impacted the network's revenues or Beck's audience. "The advertisers referenced have all moved their spots from Beck to other programs on the network so there has been no revenue lost," a spokeswoman said.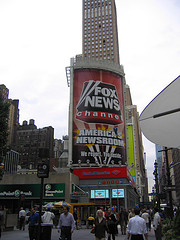 I have had enough tangential experience with the wacky world of marketing and advertising to believe that what this Fox News spokeswoman says is true. But I still wonder: Why is it true? It's not clear that there should be "no revenue lost" in this situation.
Let's assume that (1) the number total TV advertising spots is fixed and (2) the advertising budgets of the companies involved are fixed. (I believe both things are more-or-less true.) Let's further assume that (3) a boycott reduces the total number of available advertising spots.
So when the Beck Boycott hits, the same number of dollars is chasing a smaller number of advertising slots. This should ... raise the price of an advertising slot. And when that happens, I don't understand how the advertisers can simply move their spots "from Beck to other programs on the network" without increasing their advertising budgets. And if they don't increase their budgets, it would be more cost-effective for them to buy spots on (the now relatively cheaper) other networks.
But perhaps that assumes the market for advertising is efficient, and I've never met someone who believes that it is. Or am I missing something?
(Photo: Flickr User permanentlyscatterbrained)