People Think Health Care Reform Will Hurt Them
This is bad news for the Democratic reform effort:
Gallup reports today
that, according to its latest polling, more Americans than not think health care reform will hurt their own medical care
and
make it more expensive...though they think it will improve quality and access nationally.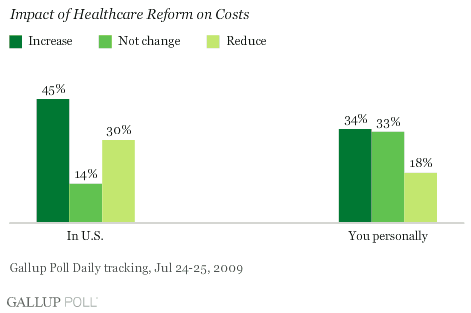 So on the three main questions of health care--quality, access, and cost--people think President Obama's initiative will make things worse for themselves on all three fronts...and that it will make things better for the nation in two out of three categories.
(There's a fundamental discrepancy here: health care reform can't help the nation across the board, while at the same time hurting most individuals.)
The public narrative, this poll implies, is that health care reform means a tradeoff: is it worth more expenses and worse care for me, the average Gallup respondent, to improve quality and access across the board?
This is specifically not how Obama wanted to paint the health care issue. In speeches and town-hall events, the president has argued that health care is a pressing need for you, that you could lose your health insurance or go broke if we don't pass a reform bill--that it's not about the millions of people without health insurance, per se, but rather about skyocketing costs that make the current system untenable. His reforms are supposed to preserve quality, improve access, and drive costs down.
According to Gallup, the public doesn't believe him--at least on how reforms would affect them personally.
If Gallup's polling is right, the health care issue pits altruism against self-interest in the public mind. And it's a tough day for any initiative when people, on average, think it will hurt them personally, even if they see a solid upside for the rest of the nation.