Daily Chart: Who Gets The Health-Care Tax Benefits? Part Two
Roll Call and others are reporting that Senate Majority Leader Harry Reid has urged Finance Committee Chairman Max Baucus to drop his proposal to tax employer-sponsored health benefits and stop chasing Republic votes. For fans of a strong public option, this might be a good thing: less compromise means the center of gravity shifts left. (Of course, it might be a bad thing too: a shift to the left means a greater chance of a bill not passing.)
But dropping the idea of taxing health benefits is undoubtedly bad. I understand that the idea, as the New York Times reports, "is largely opposed by organized labor groups, a crucial Democratic constituency, because many unionized workforces enjoy generous benefits packages that would be in danger of exceeding the limit." But the original Baucus plan would have excluded preexisting union contracts! What more could they want?
Anyway, what's most embarrassing about this situation is that the Democrats are favoring union interests over an idea that is plainly progressive in nature and would raise a huge amount of revenue ($246 billion annually, says the CBO). I've made this point in various forms elsewhere. But since the point is still (alas) correct, here is another take on the distribution of current healthcare tax benefits: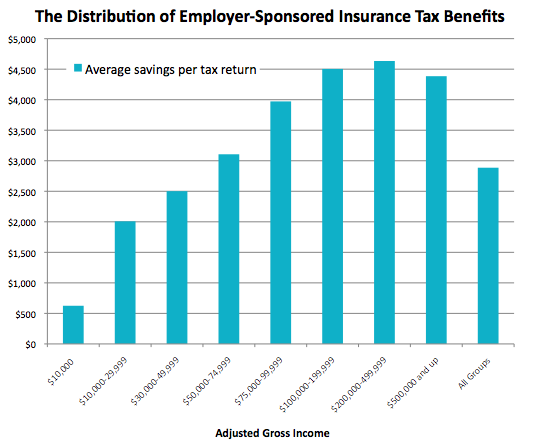 Why can't the Democrats get this right?