[Update: Part two of the interview is now posted here]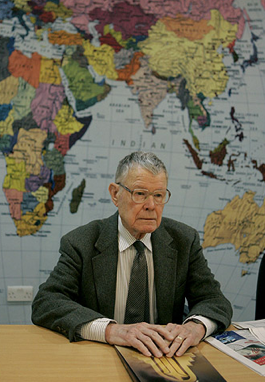 Over the weekend I spoke with Thomas Schelling, who won the 2005 Nobel Prize in Economics for his work on game theory and collective bargaining. Schelling's early work was about war and arms control, but I wanted to speak with him about a different collective bargaining problem that's been in the news: Global climate change.
Climate change presents the world with an incredibly complicated bargaining arrangement. The big costs will be born by future generations, and born more heavily by countries other than the United States. The responsiblity for those costs is also distributed unevenly around the wrold, and there is no enforcement mechanism for a global agreement. And underscoring all of this is a great deal of uncertainty about what will happen 50, 100, or 500 years in the future.
I was hoping Schelling could help me make sense of this. Part one of our conversation is below. We discussed the financial crisis first, then moved on to discuss Waxman-Markey and the upcoming Climate Change Conference in Copenahgen. I will publish part two, in which we discuss international collective bargaining, tomorrow morning. My questions are in bold.

Conor Clarke: I've been trying to call a lot of economists who don't have blogs, to sort of canvass opinions about the state of the field and particular topics within it. There's been a lot of handwringing in the past couple of months about the failure of economics and in the particular the failure of rational expectations model. What do you think about state of the field and where it's going?