What Socialism Looks Like, Part Two
Commenter Michael Goodfellow (a great last name) emails:
I see Sullivan ran your "socialism" chart on his blog today. Too bad, since I think it's pretty silly. If you want to look at government share of the economy, I think you'd draw the graph showing Federal, state and local expenditures as percentage of GDP. [...] It would add up to at least 40% of the economy. Not a nice looking chart at all.


But I wasn't interested in the government spending as a percentage of GDP! The socialism charge that I've been hearing for the past week hasn't had much to do with the size of the federal government. The charge has been that the government now thinks it can run private industry -- GM, AIG, whatever -- better than, well, private industry. The point of the chart was that, if Rahm Emmanuel and Peter Orszag and Barack Obama really felt deeply in their hearts that they could run Caterpillar or Kraft Foods better than the incumbent management, you wouldn't see 99.71% of the nation's business assets remain in the hands of the nation's businesses.
But enough about that. Here is the chart Michael has in mind: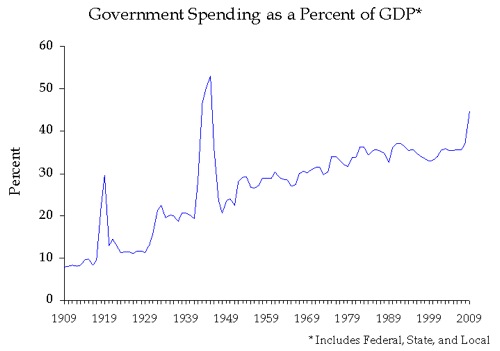 I don't have a whole lot to say about this, except (1) I agree that it's "not pretty" and (2) If you're going to equate an increase in the deficit or in federal spending as a percentage of GDP with socialism, then every modern American president (with the partial exception of Bill Clinton!) is a socialist. In which case I'm not sure Barack Obama has a lot to worry about.
Update: For something that resembles socialism more closely, you might check out Sarah Palin's state of Alaska.