Drag Me To Hell Over the Mortgage Crisis
If John Hamburg's I Love You Man -- in which Paul Rudd plays a California real-estate agent seeking a best friend in Jason Segel, an investor in "illiquid assets" -- is a subtle and damning portrait of America before the housing crisis, then Sam Raimi's Drag Me To Hell must be our cultural snapshot of the bubble's aftermath.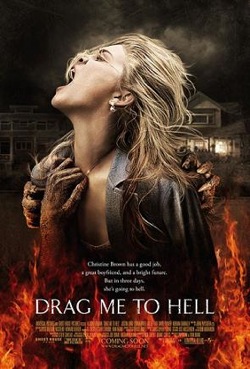 Well, okay, neither of those things is actually true. But Drag Me To Hell is about a loan officer, played by Alison Lohman, responsible for processing mortgages and foreclosures at a California bank. And the moral of the story is really quite clear: If evil banks continue to foreclose on the homes of helpless old ladies with health problems and fixed incomes, one of them will inevitably turn out to be a gypsy witch with with dark powers who will seek a terrible vengeance by summoning the horrors of the underworld.
Somewhat more generally, I am impressed by the ability to a major studio to get the cultural timing right here. Just a couple of months ago there were films like the comically ill-timed Confessions of a Shopaholic and The International. They must have seemed like a great concepts in late 2006, to whatever studio executive greenlighted them somewhere between his third and forth mortgage.
I assumed the industry's long production times and so forth would make that kind of problem inevitable, but the timing of Raimi's film -- which obviously wants to ride the coattails of the mortgage crisis to success at the box office -- is really pretty impressive.