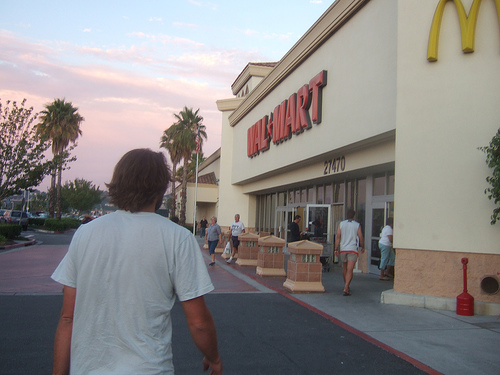 I'm pretty sure the behavior Wal-Mart is engaged in here,
pressuring employees to vote for John McCain
, is illegal. But the real scandal is what's unquestionably illegal. There's an awful lot companies can do perfectly legally to block union organizing drives. But some of the most effective tactics are illegal. That doesn't, however, mean that following the law is smart business strategy:
On June 30 the National Labor Relations Board ruled that Wal-Mart illegally fired an employee in Kingman, Ariz., who supported the UFCW and illegally threatened to freeze merit-pay increases if employees voted for union representation. The decision came eight years after the organizing campaign failed, and four years after the case was originally heard.


Under these circumstances, union organizers have no effective legal recourse to violations of labor law and employers have no incentive to actually follow the law. And since employees know the laws won't be enforced if broken, employers only relatively rarely need to actually break the law in order to get the correct intimidating threat. Like the mafia, a company like Wal-Mart only needs to be seen to break a few kneecaps and get away with it for there to be an adequate intimidation effect to de facto deny a vast workforce its rights.

Photo by Flickr user wetwebwork used under a Creative Commons license