It seems that African-Americans and whites have, on average, different opinions about Barack Obama, leading
The New York Times
to report
"Poll Finds Obama Isn't Closing Divide on Race"
. Here, I guess, is there evidence: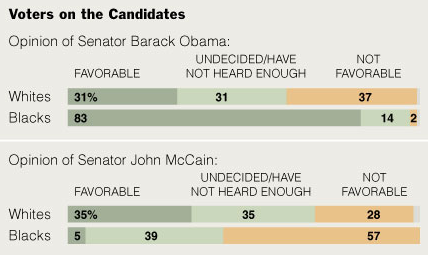 Note that if we restrict our attention to white people, views are pretty similar -- 31 percent like Obama, 35 percent like McCain. The main difference is that black people are really enthusiastic about Barack Obama. Meanwhile, there's no sense of history or comparison here -- hows does this compare to other elections?
I would say -- Barack Obama has assembled a large army of paid staffers and volunteers, many of whom are black but most of whom are white. He's assembled an unprecedentedly large base of donors -- black and white. A plurality of Americans say they plan to vote for him for president and though Obama's coalition includes the vast majority of black Americans, whites outnumber blacks within it. I can't think of other examples of a comparable number of white people supporting a black candidate. Given the country's history, it's all pretty impressive if you ask me.