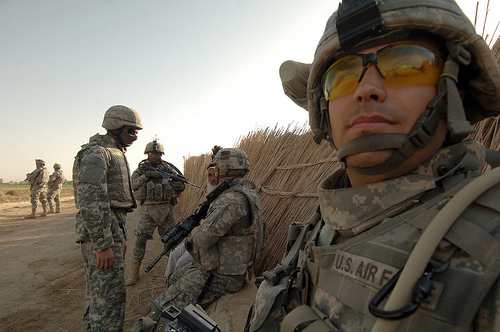 If you look back to the summer of 2005, you'll see that few people at the time regarded conditions in Iraq as "good" or even acceptable. And yet things got so much worse over the course of 2006 and early 2007, that improvement in 2008 to bring us back to the kind of level of violence we had three years ago -- except with more walled-off and ethnically cleansed neighborhoods in place -- is now represented as a great triumph. James Vega has a
forceful post up
at The Democratic Strategist reminding us of how perverse this is.
And then you get things like today's newspaper headline
"Bomb Attacks in Baghdad and Kirkuk Kill Dozens"
. The essence of the "success" of the surge is that, as in 2004 and 2005, you only
sometimes
read about that kind of thing, whereas at its worst you read about it frequently. That's not nothing, but people should understand that even in its "better" state Iraq is very much a shattered society featuring an unenviable quality of life.
DoD photo by Spc. Richard Del Vecchio, U.S. Army