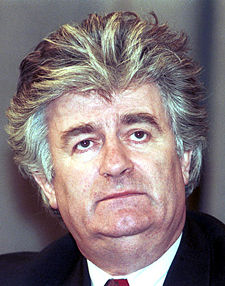 War criminal Radovan Karadzic was arrested in Serbia bringing to an end the long twilight of his career as a fugitive from international justice. Here's a useful PBS profile of Karadzic. The Finding Karadzic blog is interesting (and though soon to be literally obsolete will presumably feature trial coverage in the future). And then there's Russ Baker's 2004 article on how Karadzic was being allowed to evade justice.

A great day for humanity and international law, and a bad day for massacres and war crimes.

UPDATE: Heather Hurlburt smartly puts this turn of events in the context of last week's ICC indictment of Omar Bashir to observe that "for an institution that has been ridiculed, assaulted and accused of non-existence in recent years, international law -- and more important, international accountability for crimes committed against one's own citizens -- is having a pretty darn good run right now." She also makes the provocative point that the United States is looking a bit like the dispensable nation right now with these events haven "taken place pretty much without the United States or even, in the case of the ICC, against the will of our government." Just think what could be done if by far the richest, largest, and most important liberal state were to return to involves ourselves constructively in these international processes.