Meanwhile, Mark Ganz from the Puget Sound Health Alliance says he doesn't necessarily think it makes a difference who wins the presidential election. Either one could get the job done, he says, "if they chose to make this a central focus have the political skills and the ability to appeal to the American public." That seems a little blinkered to me. It's true that they're both talented politicians, but the relevant variable here isn't just
how much does McCain or Obama care
but what do McCain or Obama think. As best I can tell, they actually have substantially different opinions about health care! It's a fallacy to think that there's a "problem" here and that everyone is trying to "solve" it. There are actually different views about what the nature of the problem is.
Ganz then follows this up with music to my ears talking about the serious problems in quality and cost-effectiveness and name-checks this Peter Orszag slide: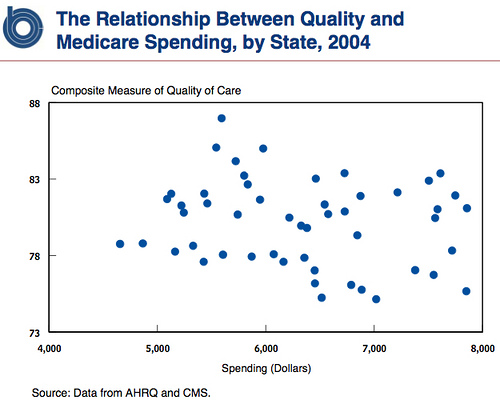 Orszag himself will speak later. Ganz quotes Nelson Mandela "things are impossible until you do them" which is a slogan I like.