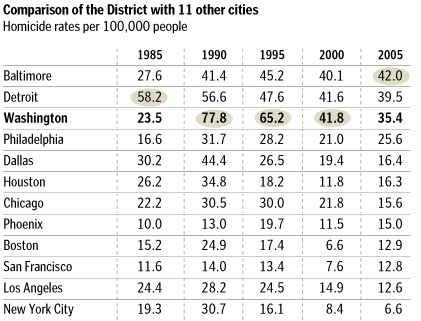 Here's a chart from the Washington Post showing that despite a substantial decline in the DC murder rate, and despite the fact that Baltimore and Detroit have overtaken us as murder hubs, the DC homicide rate is still really really high.

The facts get even more stark when you put them in context. Detroit is an economically depressed city where 32.5 percent of individuals are below the poverty line. DC's poverty rate is slightly lower than what you see in much-safer cities like Houston, Chicago, and Philadelphia.

And of course one has to assume that the high crime rate is an impediment to economic opportunity. Depressed commercial corridors like George Avenue and H Street NE would probably have more vitality -- fewer boarded-up storefronts, more job opportunities -- if more people felt safer walking around the city at night. I'm not sure I have a theory as to why DC's crime control efforts are so ineffective compared to some other cities though the fact that the police department has to dedicate substantial resources to special capital-related stuff rather than to patrolling the streets doesn't help.