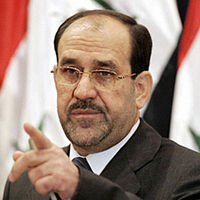 Max Boot tries to rationalize staying in Iraqi no matter what Iraq's government says. First:


This is part of a pattern for Maliki, who, though he won office and has stayed alive (literally and politically) with American support, has hardly been an unwavering friend of the United States -- at least in public. Although he was an opponent of the Saddam Hussein regime, he was not a proponent of the U.S.-led invasion.


Some might see in this Maliki as something of an Iraqi patriot or if one wants to put it in less ennobling terms, a nationalist. A guy who doesn't like to be oppressed by Saddam Hussein but also doesn't like to see foreigners conquer his country. Not that Bush is Saddam by any means, but surely I'm not the only American who sympathizes with the view "don't like the current government, wouldn't support foreign conquest." After all, maybe Maliki just thought that once the Americans were in Iraq, the proponents of the invasion would insist on staying forever -- no matter what the Iraqi people or their government wanted. Sure, that'd just be a paranoid conspiracy theory, but you know how prevalent those are in the Arab world.

So based on that Boot says we can safely ignore Maliki and just pay attention to different Iraqi leaders who he liked better. Brigadier General Bilal al-Dayni, who commands troops in Basra, for example was quoted in the Post as saying "we hope they will stay until 2020" which Boot tells us "is similar to the expectation of Iraq's defense minister, Abdul Qadir, who says his forces cannot assume full responsibility for internal security until 2012 and for external security until 2018."

Boot should perhaps consider that the current downswing in anti-American violence is very likely to become an upswing again if the United States insists on not only ignoring Iraqi opinion and Iraq's duly appointed leadership on this issue, but does so in a way that signals we'll never leave unless we're driven out by force.