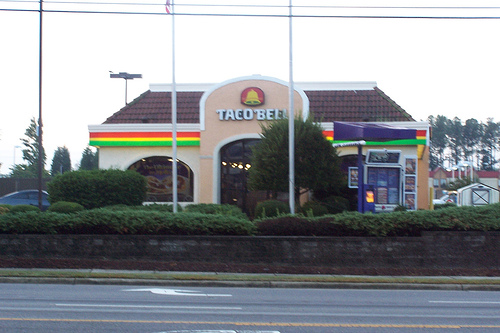 The LA City Council adopted a measure yesterday to
prevent new fast food restaurants
from opening in South LA. The theory is that this will enhance the diversity of dining options in the area in a manner conducive to public health. Cato's David Boaz
throws a fit
:
But I was particularly struck by this statement from Councilwoman Jan Perry, sponsor of the measure: "I believe this is a victory for the people of South and southeast Los Angeles, for them to have greater food options."

Greater food options? All the council is doing is banning some restaurants. How will that give residents more options? Maybe — maybe — other restaurants will open in South Los Angeles because fewer fast food restaurants will open over the coming year. But residents will still not have "greater food options," just different options, courtesy of those who know best.


I don't find Perry's reasoning all that baffling. It seems that the most profitable kind of food service business to run in South LA is a fast food business. It further seems that this is the case to such an extent that there are almost no sit-down restaurants in the area. But it's possible that a sit-down restaurant in South LA could be profitable, while still being a less efficient use of the space than would a fast food outlet. Prevent new fast food outlets from opening and some sit-down restaurants may open to fill the gap. That will probably result in a smaller overall number of eating establishments than would have existed without the ban, but a greater diversity of choices since the hypothetical new fast food outlets would be similar to the existing options.

Now that said, it's far from clear to me that this is a good idea. The notion is to reduce obesity by bringing healthier choices into play. But what's banned is "any establishment which dispenses food for consumption on or off the premises, and which has the following characteristics: a limited menu, items prepared in advance or prepared or heated quickly, no table orders and food served in disposable wrapping or containers." That doesn't have anything to do with the nutritional content of the food being served and as such seems unlikely to have any kind of dramatic impact on the variable they're trying to nail. My neighborhood's beloved Florida Avenue Grill isn't fast food, but it's not health food either.