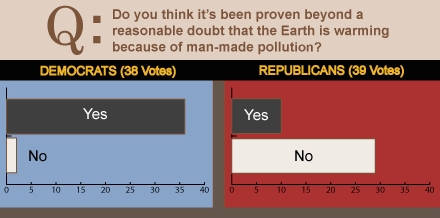 The cool kids of the conservative movement have long since moved on to much more complicated rationalizations for why coal and oil companies should continue destroying the planet unabated, but
National Journal
's
poll of members of congress
(respondents are anonymized except for their party affiliation) reminds us that for most conservatives lying and ignorance are still the key to the politics of global warming. Note this staggering remark from one GOP stalwart: "If there's one thing poll after poll indicates, it's that the science is not settled on this issue."
Because when I want to understand whether or not science is settled, I leap straight for a public opinion poll! Are ghosts real? The
science is unsettled
!