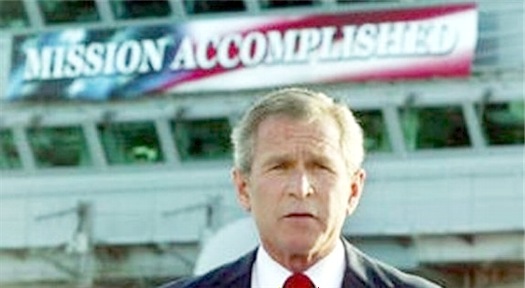 Some contemporaneous coverage from CNN five years ago:


"Yes, I flew it. Yeah, of course, I liked it," said Bush, who was an F-102 fighter pilot in the Texas Air National Guard after graduating from Yale University in 1968. [...] The landing came just hours before Bush is to tell the nation that major combat operations in Iraq have ended. The speech will be delivered from the carrier's flight deck at 9 p.m. EDT.

The picture-perfect landing, covered live on television, marked the latest effort by the White House to showcase Bush as commander in chief. The president's address about the success in Iraq comes as Bush's domestic agenda is under renewed fire by Democrats, especially by a flock of White House hopefuls.


Since that time, thousands of Americans have died, who knows how many more have been wounded, hundreds of billions of dollars have been spent, and millions of Iraqis have been killed or displaced. Naturally, current policy calls for us to stay in Iraq, possibly fighting for decades in the hopes that peace eventually breaks out on terms that allow us to establish a permanent military presence there. Makes sense to me.