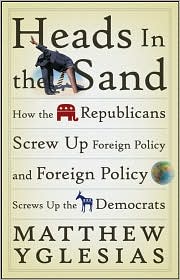 I'm not sure if you've heard, but I wrote a book recently called
Heads in the Sand: How the Republicans Screw Up Foreign Policy and Foreign Policy Screws Up the Democrats
which examines the politics and policy of the 21st century national security debate from a progressive perspective. The main idea of the book is that the key to future political success for American liberalism is dependent on mastering the national security issue, and that the key to doing this
isn't
to endlessly continue the vacuous search for "toughness" but instead to ditch the people and ideas who wound up leaving so many Democrats complicit in the Bush administration's horrible war in Iraq.
Fred Kaplan calls it "a smart, vital book," Ezra Klein deems is "a very serious, thoughtful argument that has never been made in such detail or with such care" and Hendrick Hertzberg emphasizes that it's not boring (as those of you who get the Ezra Klein joke may surmise), "
Heads in the Sand
is not just a razor-sharp analysis cum narrative of the politics of national security in general and the Iraq war in particular, it's also an enthralling and often very funny piece of writing."
Today is the "official" release date, so not only can you
order a copy
but I think it should now be in brick and mortar bookstores. Also if you live in DC and have a job that lets you wander off to think tanks in the middle of the day come see me
today at noon
talking about these issues with Rand Beers, Kurt Campbell, and Brian Katulis.
So, you know, buy my book. Tell your friends to buy my book. Read the book, even!