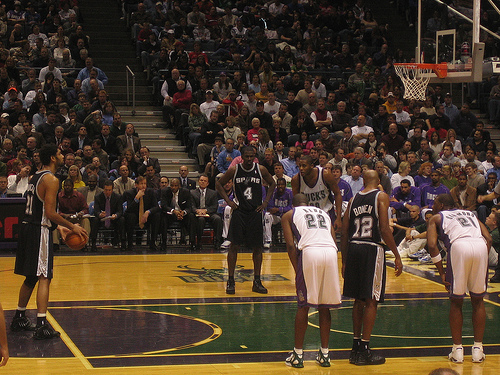 John Hollinger
thinks the unthinkable
:
Over the past 23 games, San Antonio has beaten all the bad teams and lost to all the good ones. In other words, it has been an average team.


This in defense of the proposition that the Spurs might actually miss the playoffs:


Even with all that, it's still hard to imagine a San Antonio team with the likes of Duncan, Tony Parker and Ginobili missing out on the playoffs entirely. But throw in an ankle sprain to one of those three and put them in a conference where 48 wins might be needed to gain entry to the postseason, and it's a different story. That's why the Playoff Odds say there's a 1-in-4 shot of the unthinkable happening.


A playoffs without the Spurs seems hard to imagine. Even so, this is an even numbered year so anything could happen. The real question is whether the legendary Spurs machine is breaking down in a larger sense, leaving them unable to make the numerologically determined bounceback to win the 2009 NBA Championship.

Photo by Flickr user Compujeramey used under a Creative Commons license