Ron Paul: The Good, The Bad, and The Ugly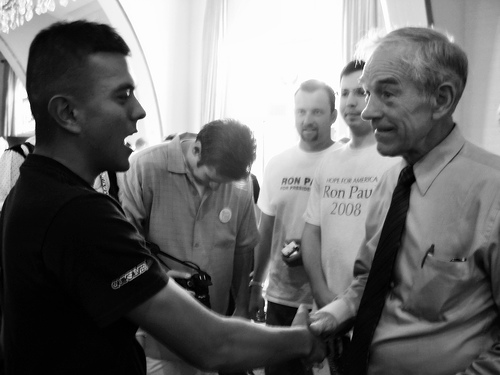 There are definitely times during Ron Paul's
Meet The Press
interview where you wonder how it is that Paul got to me the protest candidate while Russert is the voices of sober-minded sensibleness:
MR. RUSSERT: So if Iran invaded Israel, what do we do?

REP. PAUL: Well, they're not going to. That is like saying "Iran is about to invade Mars." I mean, they have nothing. They don't have an army or navy or air force. And Israelis have 300 nuclear weapons. Nobody would touch them. But, no, if, if it were in our national security interests and Congress says, "You know, this is very, very important, we have to declare war." But presidents don't have the authority to go to war.


Of course, Iran also lacks a land border with Israel so unless their uranium enrichment program winds up leading to the development of a teleportation device (or, more precisely, the Heisenberg compensator you'd need to make it work) we probably don't need to worry. On the other hand, though, you get this:


MR. RUSSERT: Let me ask you about race, because I, I read a speech you gave in 2004, the 40th anniversary of the Civil Rights Act. And you said this: "Contrary to the claims of" "supporters of the Civil Rights Act of" '64, "the act did not improve race relations or enhance freedom. Instead, the forced integration dictated by the Civil Rights Act of" '64 "increased racial tensions while diminishing individual liberty." That act gave equal rights to African-Americans to vote, to live, to go to lunch counters, and you seem to be criticizing it.[...]

MR. RUSSERT: You would vote against the Civil Rights Act if, if it was today?

REP. PAUL: If it were written the same way, where the federal government's taken over property--has nothing to do with race relations. It just happens, Tim, that I get more support from black people today than any other Republican candidate, according to some statistics. And I have a great appeal to people who care about personal liberties and to those individuals who would like to get us out of wars. So it has nothing to do with racism, it has to do with the Constitution and private property rights.


Now Paul is right to say that this is just an area where libertarian ideology and white supremacist ideology just so happens to overlap, but there you have it -- overlap
with white supremacist ideology. And then there's this:


MR. RUSSERT: I was intrigued by your comments about Abe Lincoln. "According to Paul, Abe Lincoln should never have gone to war; there were better ways of getting rid of slavery."

REP. PAUL: Absolutely. Six hundred thousand Americans died in a senseless civil war. No, he shouldn't have gone, gone to war. He did this just to enhance and get rid of the original intent of the republic. I mean, it was the--that iron, iron fist..

MR. RUSSERT: We'd still have slavery.

REP. PAUL: Oh, come on, Tim. Slavery was phased out in every other country of the world. And the way I'm advising that it should have been done is do like the British empire did. You, you buy the slaves and release them. How much would that cost compared to killing 600,000 Americans and where it lingered for 100 years? I mean, the hatred and all that existed. So every other major country in the world got rid of slavery without a civil war. I mean, that doesn't sound too radical to me. That sounds like a pretty reasonable approach.


Obviously, yes, there were better ways to end slavery. That's why Abraham Lincoln didn't run on a platform that said "let's have a bloody civil war!" Rather, his idea was to prevent the expansion of slavery into new territories and try to nudge the country in the direction of compensated emancipation. The South, though, decided that rather than abide by the results of the election, they would secede from the country and establish a new herrenvolk democracy committed to slavery uber alles. They, not Lincoln, put resolution of the slavery issue through the political process out of reach.

Photo by Flickr user Jayel Aheram used under a Creative Commons license