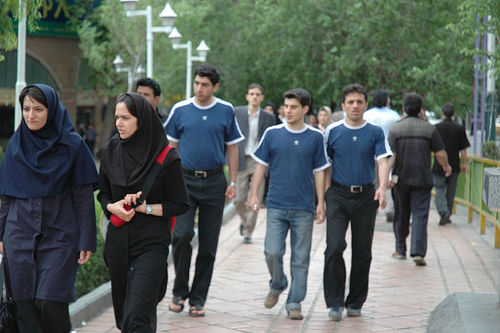 Michael Hirsh on the new
blame Iran for everything
strategy coming out of the White House:
Today the administration is casting Iran as America's biggest bogeyman on every front. National missile defense? Once Kim Jong Il of North Korea was identified as the target of this expensive project. No longer. In a speech Tuesday at National Defense University, Bush declared that "the need for missile defense in Europe … is urgent" because "Iran is pursuing the technology that could be used to produce nuclear weapons and ballistic missiles." Mideast peace? Never mind that the Palestinians are mixed up in a civil war of their own making and blaming the Israelis. Much of it is really the fault of "Iranian aggression," as Secretary of State Condoleezza Rice declared on Wednesday. "To see Iranian actual penetration now of these more radical elements of the Palestinian terrorist groups is really quite troubling," she told the House Foreign Affairs Committee. U.S. generals are now routinely trotted out to blame Iranian interference and arms shipments for the continuing Islamist insurgencies in Iraq and Afghanistan, though Tehran plays at best a minor role there.


Recall something similar from before the Iraq War, not only a particular tendency to inflate the Iraqi nuclear front and the Iraqi ties to al-Qaeda, there was this habit of dramatically overstating Iraq's significance in the broader world. Not only was Saddam's support of Palestinian rejectionist a bad thing about his regime, but somehow ending this support was the key to peace. And now again we see that if the administration's "get tough" strategy toward Iran's nuclear program isn't working and getting tougher is unlikely to work, so now we're told that getting tough will solve all kinds of problems all around the world.