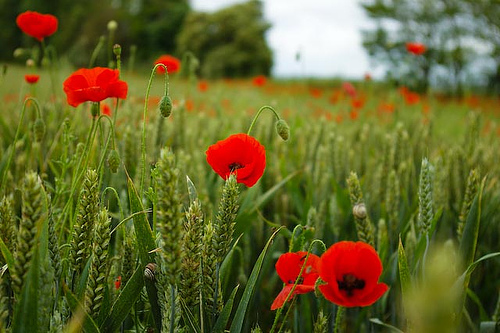 Did you know that in Afghanistan the US government is
pushing a poppy-spraying plan
that just so happens to be opposed by such trivial figures as Hamid Karzai and "American military and intelligence officials and European diplomats in Afghanistan." Mark Kleiman, a drug policy specialists, notes that not only is this daft national security policymaking, but it's
not useful
as drug control policy either.
Meanwhile, take note of the broader context. Our first post-war chargé d'affairs in Afghanistan was
Ryan Crocker
, a diplomat with previous experience in Iran, Qatar, Iraq, Lebanon, and Middle East policy in DC. Next we got
Robert Finn
who has a PhD. in Near Eastern studies and had worked in Azerbaijan, Tajikistan, Pakistan, and Turkey. Then came
Zalmay Khalilzad
, also a specialist in the region and, indeed, someone who was born in Afghanistan. Then
Ronald Neumann
, also a near east specialist with experience all throughout the Muslim world.
Now, though, our man in Kabul is
William Wood
someone who, though certainly qualified to be an ambassador, has no experience or expertise in the region. Instead, our top political official in the key battleground against al-Qaeda's main qualification seems to be that his previous post was as
ambassador to Colombia
. Implicitly, then, the decision is being made to view Afghanistan
primarily
as a drug control problem rather than as a Taliban-and-al-Qaeda problem. That's just crazy.
Of course it would be one thing if our key allies in Afghanistan were telling us that drug eradication is the number one thing they need help with and could we please send them a specialist in the field. Obviously, though, that's not what's happening. The number one thing they need help with is securing the loyalty of southern Afghanistan's population, and they feel that spraying the country with chemicals that kill poppies and other agricultural products alike is going to alienate people and make their problems worse.
Photo by Flickr user ny156uk used under a Creative Commons license