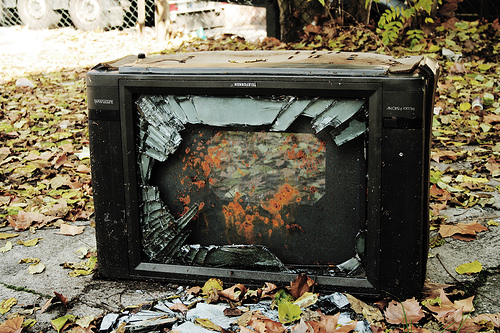 Near the end of
The New York Times
's
article on new NBC TV downloads
, Jeff Gaspin, NBC TV's president, says "Our research shows that 83 per cent of the viewers would still rather watch on a TV than a PC."
This doesn't necessarily seem relevant to me. I would want to watch shows on as high-quality a display as possible but whether that display is a "monitor" connected to a computer or a "television" connected to a cable box doesn't matter at all. I don't, in practice, connect my TV to my computer but if you made it possible to download files that were worth watching on a large high-definition screen, then I'd do it in a minute.
Meanwhile, he also claims that pricing disputes weren't the main motive for leaving the iTunes Store. Rather, "piracy was and is our No. 1 priority." The piracy obsession from the content industry continues to be depressing. The nature of the internet is that if a single pirate copy lands on the world's peer-to-peer networks, then a pirated version of your content is available. Unless your copy protection scheme is literally impossible to break, the only real safety against piracy is either for your product to be really unpopular or else to try to sell people a product that's superior (in terms of, e.g., convenience) than the one they can get illegally. This quest for "better" anti-piracy measures doesn't lead anywhere. Instead, by crippling their product, content-producers are putting themselves at a competitive disadvantage vis-a-vis illicit copies.
Photo by Flickr user Jot Punkt used under a Creative Commons license