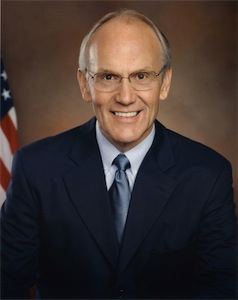 Hilarious as it is to learn that Senator Larry Craig (R-Idaho)
got arrested in June in Minneapolis
for "lewd conduct," I'm actually pretty puzzled by the legal issues in play here:
"At 1216 hours, Craig tapped his right foot. I recognized this as a signal used by persons wishing to engage in lewd conduct. Craig tapped his toes several times and moves his foot closer to my foot. I moved my foot up and down slowly. While this was occurring, the male in the stall to my right was still present. I could hear several unknown persons in the restroom that appeared to use the restroom for its intended use. The presence of others did not seem to deter Craig as he moved his right foot so that it touched the side of my left foot which was within my stall area," the report states.

Craig then proceeded to swipe his hand under the stall divider several times, and Karsnia noted in his report that "I could ... see Craig had a gold ring on his ring finger as his hand was on my side of the stall divider."

Karsnia then held his police identification down by the floor so that Craig could see it.


Now, common sense indicates that the officer in question is correct and Craig's foot-tapping was a cruising signal, but surely tapping one's foot isn't a crime in Minnesota. Whatever Craig intended to do here, he doesn't seem, in fact, to have done anything lewd. I suppose that Craig, wanting to keep this whole thing hushed up, wouldn't have wanted to fight the charges, but it's still hard to see how he could have imagined that it wouldn't come out sooner or later.

Here's a history of gay life in Idaho.