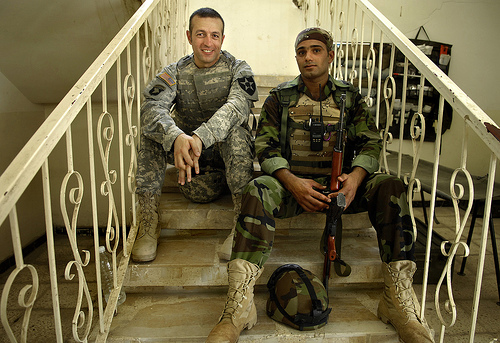 Atrios nails the
problem with a residual force
with his customary pith: "What drives me nuts about this residual force stuff, aside from how arbitrary it is, is that there's never any thought to exactly what these 50,000 should do. Basically, as the violence rages around them they're supposed to sit there to ensure that... there isn't even more violence raging around them. But it isn't really enough people to actually intervene, especially given that not even close to that many would be combat troops."
Quite so. Unfortunately, in another customary attribute that I'm less enthusiastic about, the target of Atrios' ire is
International Herald Tribune
columnist
Roher Cohen
. Cohen is appropriately mocked as a "Very Serious Person." But while media criticism certainly has its place, the reality is that the prime advocates of a residual force in Iraq aren't Cohen or other "wankers" in the press, but Hillary Clinton, Barack Obama, John Edwards, and much of the Democratic congressional leadership. That we can be in the midst of a primary campaign during which the candidates are supposedly looking to "pander" to the dread damn dirty hippies of the base and yet none of the front-running candidates will make a clear promise to leave Iraq and attack his or her rivals for failing to do the same is rather astounding.
If a pollster called me tomorrow and asked who I was supporting, I would say "Bill Richardson" out of a hope that perhaps a smallish Richardson surge would convince someone else to adopt his position on Iraq -- we should leave.
Defense Department photo
.