Fun With Material Conditionals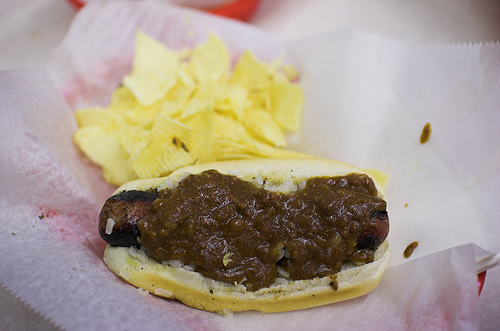 Catherine Andrews
recommends
Washingtonian
's guide to
"dining out in U Street and Shaw"
which includes the hilarious assertion "$30 or less." This is true in the same kind of way that "grass is green or Bush is a great president" is true rather than the sense in which you might realistically spend $30 there. If you got two chili half smokes (both come with potato chips), plus an order of chili cheese fries, plus two large sodas, plus two slices of cake, that comes to $24.80 and you'd almost certainly die if you ate all that.
Also, the review falsely states that Ben's "is best known for its chili dog and chili burger" and doesn't even mention the chili
half-smoke
which is actually what it's best known for, and contains the odd assertion that "Ben's is at its best at breakfast." On the contrary, Ben's is at its best when you're drunk off your ass. For an old-school U Street breakfast, go to the
Florida Avenue Grill
.
Photo by Flickr user Josh Thompson used under a Creative Commons license