The View From Your Breakfast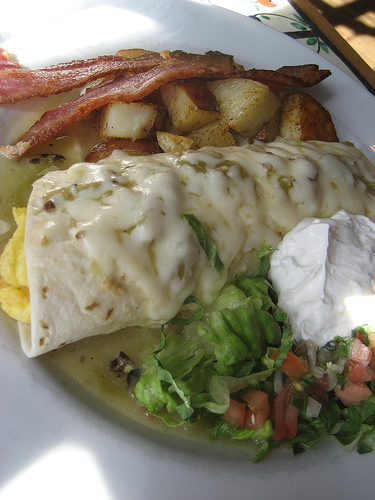 If you'll accept my apologies, the hidden agenda of this post is to try and master the correct deployment of a vertically oriented photo under the new design. That said, this is a "breakfast burrito" as served in Santa Fe, New Mexico. My contention would be that this is really more of a breakfast enchilada, as witnessed by the melted cheese atop the contraption and the fact that many of the key breakfast ingredients -- potatos, sour cream, pico, bacon -- are left outside the tortilla. To my way of thinking, a true breakfast burrito ought to include all the ingredients inside a wrapped tortilla.

At any rate, that's just one New Yorker's perspective, so authentic denizens of those regions of the country better-equipped with inauthentic Mexican food should probably take it with a grain of salt.