The decision to tackle the timeless question,
pourquoi blogger?
("why blog?") was, naturally, what drew my interest in this French magazine for teen girls. The magazine itself, however, turns out to interestingly demonstrate that French efforts to roll back franglais don't seem to be faring very well with the younger generation.
Est-ce que je suis une party girl?
seems like a wildly unnecessary anglicism.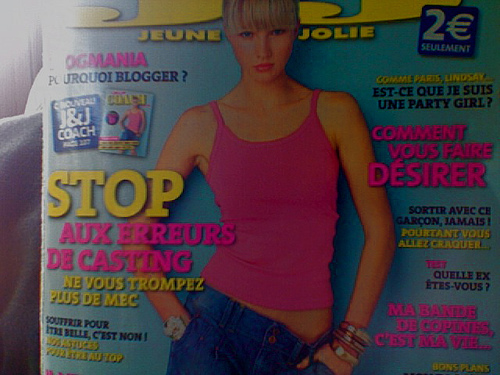 Similarly, the blog article itself runs in the magazine's "Fun Coach" department. Even worse, the TOC page
repeatedly
uses the word "love" (as in "LOVE SEX: Comment vous faire désirer" on page 88) instead of the familiar-even-to-Americans "amour." Intriguingly, based on the magazine France appears to be the prosperous modern society in which consumer goods are widely available and teens are interested in fashion, dating, and celebrities I've visited in the past rather than the poverty-stricken, strife-ridden hellhole I keep reading about in the newspapers.