For some reason, Freemasons seem to be big in New Mexico. Big and powerful. This temple, for example, is right by the only place we could find parking near Santa Fe Plaza the other day, and the lot turns out to be under Masonic control. And, of course, the main thing I've learned on my trip is that outside of my cozy Northeastern home, if you control the parking, you control the world.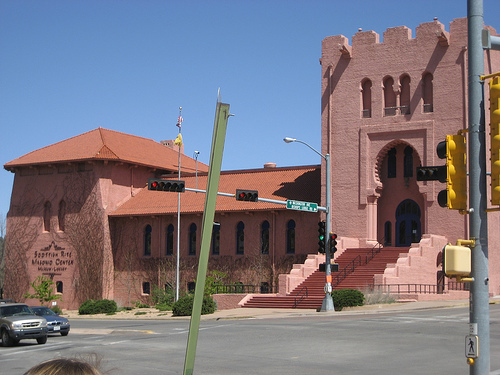 Meanwhile, in Taos we went to the
Kit Carson Home
where it was revealed that Carson, the "legendary" mountain man neither of us had heard of, had been a Mason, as were most of the important figures in 19th Century Taos. Not only that, but the tour guide darkly hinted that the home/museum complex was still under the thumb of the Masons and that the Masons actually had the power to blot a person's name out of history. Which is all fine as far as it goes, but it raises the question of who's
really
behind Bill Richardson's presidential campaign -- does he serve the American people, or the vast Masonic conspiracy? Think about it.