A Witness to the State's Power to Kill
What a spiritual adviser saw when the federal government executed a man on death row.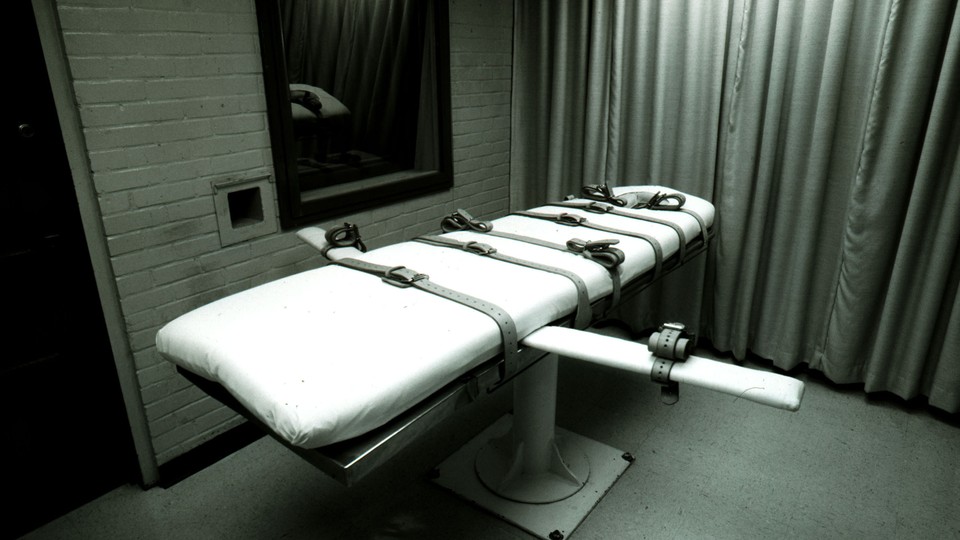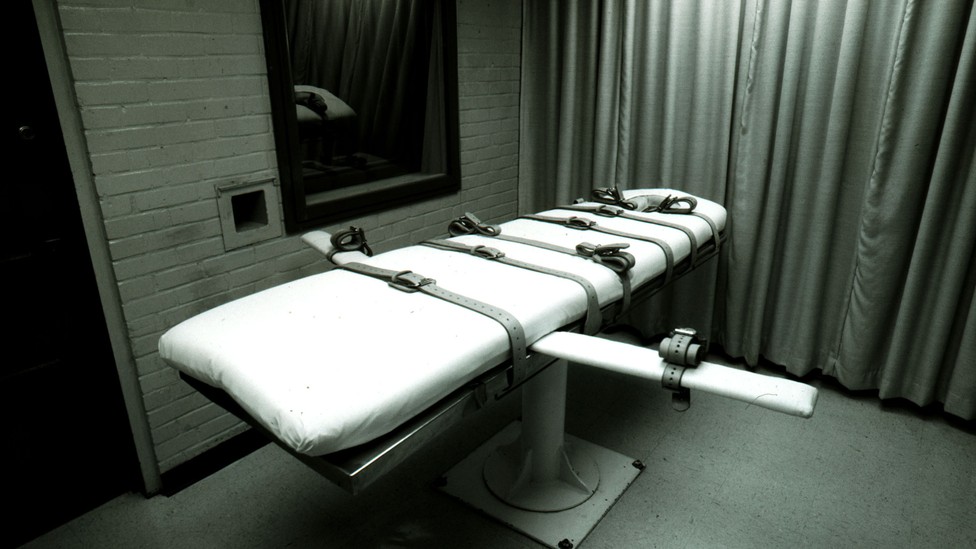 In the summer of 2020, the Trump administration followed through on a promise it had made a year earlier. It would, after a 17-year hiatus, resume federal executions. That original announcement detailed plans to execute five people on death row; by the end of the Trump presidency, the number had ballooned to 13—more executions than in the previous 67 years combined.
The eighth person executed was Orlando Hall, a Black man who, in 1995, was convicted by an all-white jury of the murder and kidnapping of a 16-year-old named Lisa Rene. Along with three accomplices, Hall had abducted Rene from her home in Arlington, Texas, and Hall's accomplices took her to Pine Bluffs, Arkansas. Two days later, one of Hall's accomplices doused her with gasoline, and Hall and two of them buried her alive.
Only one person who wasn't a prison official or otherwise connected with his legal case was in the room where Hall's execution happened: a civilian who had volunteered to be there. Yusuf Ahmed Nur, a business professor at Indiana University Kokomo, had answered an email to become Hall's spiritual adviser. Though there has been some recent fighting at the Supreme Court about this, the First Amendment has typically been interpreted to give people on death row the right to a spiritual adviser from whichever religion they practice—Islam, in Hall's case.
Although Nur had originally volunteered only to be a spiritual adviser in the days leading up to the execution, Hall, through his lawyer, asked Nur to be present at his death. "And I said, 'I don't want to do that. I really don't want to be there, but if he wants me to be there, I am going to be there. That's the least I can do.'"
Nur spoke with The Experiment, a podcast from The Atlantic and WNYC Studios, about being the last person to speak with Hall, and the trauma of the death penalty.
Listen and subscribe: Apple Podcasts | Spotify | Stitcher | Google Podcasts
Here's a sample of our conversation, edited for length and clarity.
---
Alvin Melathe: When you had gotten the email, originally, and read it, what was your feeling? Was your feeling Someone else is going to do this?
Yusuf Ahmed Nur: I was thinking that somebody would do it, but deep down, I knew that, in general, things that are unpleasant, it usually falls on me. So I decided to do it the moment I realized that nobody else was going to do it.
Melathe: Why not just let the email go?
Nur: You know, you have a fellow human being who is on death row, and they are going to kill him. And so it was—it was … I didn't really think about it. It's just like, This guy needs help, and he's seeking somebody to talk to, and that's the least you can do. It entails some sacrifice, but compared to what he's going through, what I'm going to do is a piece of cake.
Melathe: So you decided to meet Orlando, drove about an hour to Terre Haute, and then what happened?
Nur: And I was accompanied by this prison official, who took me through multiple heavy metal doors, through an elevator, and finally to the visitation room, where I was on one side of the room, and he's on the other side of the room, and we're separated by a glass wall.
Melathe: So what do you first say to Orlando?
Nur: Well, you know, greeting—Muslim greetings—"Peace be with you," in Arabic. That was our first exchange. The allocated time is from nine 'til three. And I spent those six hours with him that first time. But one thing that I wanted to know was—whatever he did—that he was contrite, that he was sorry, that he was regretful, and so it's one of the first things that we talked about. And it was very clear to me that he regretted what he did, or the role he played in the killing of that young woman. Whether he was guilty or not, I decided that that part was not my job. That was not my role.
Right away, I could see that he was already, you know, reconciled to his fate. He was not nervous. He was ready. Part of Islamic teaching is that everybody's going to die. It's not about how you die. It's everybody has a time and a day and an hour where they die and you just accept it. And so he was reconciled, despite the fact that he didn't believe that he should die.
Melathe: And what kinds of questions did he have for you?
Nur: We talked about Islam in general. He studied, thoroughly, Islam. He knew a lot. He brought his books. He brought a copy of the Quran in English. And so we talked about, you know, religious concepts, religious philosophy. We talked about the death penalty in Islam.
And so we also talked about the political side of American executions and the fact that the rate of executions is much higher, and the rate of incarceration in America is much higher. You know, more African Americans are incarcerated, percentage-wise, than whites.
And, you know, he even mentioned the fact that this string of executions—they started with a white guy. And he said, you know, "Who do they think they are fooling? They started with a white guy just to show that they're not targeting African Americans. But … they're not fooling anybody. Two-thirds of the people there in death row in Terre Haute … were nonwhite."
Melathe: The night of the execution, what happened?
Nur: The victim is lying down on the gurney, right in the middle of the room, closer to the wall, the opposite wall. One of the long walls, the opposite wall, is where the windows are, glass windows. And so I could see the windows that are the media and the family room. And Orlando could see them because the gurney, the head, the torso part, is raised a little bit. So you can see that he can see them while lying down there, strapped to the gurney.
Melathe: And where are you standing?
Nur: I'm standing right beside him. And on each side of the gurney are the executioners, one on each side. And by the time we got there, he was already strapped on the gurney. He was covered with what looked like a hospital blanket. It's like it was deliberately designed to make it look like a benign surgical operation in a hospital. And so I was not allowed to approach him before they started releasing the poison. I have to stand—keep a distance from the gurney. Orlando and I [are] talking, and I've already explained to him what we will be doing, the last rites that we would recite. And he—on his own—I mean, he started doing it on his own. I really didn't have to help him in any way. He just started reciting on his own. And he kept reciting even after they started releasing the poison. He was reciting the prayers that he knew in Arabic.
Melathe: How did you know when he was gone?
Nur: He stopped reciting. And then within seconds, his mouth opened, wide, like he started yawning. And later on, I read: Yawning, that's an indication that they can't breathe. They're trying to breathe, but they can't. So it's like drowning. And so he yawned a number of times—at least three times—and then he was gone.
The time that you are waiting, that's the most difficult time. That's when you start thinking. That's when it hits you. It's quiet. Nobody's saying anything. Everybody's waiting. Waiting for the doctor to come and pronounce him dead. That's when it hits you how surreal it is. How absurd it is.
Melathe: And how did it feel as you were there?
Nur: I'm in this room, and I am participating in the killing of a fellow human being, [who] just a few hours ago was healthy. They assign you a role to play in this execution. That's when all of these thoughts crowd into your mind.
How surreal it is, like we are the high priests of this sacrifice, that we're sacrificing … It makes you go back, thinking about, you know, when people used to sacrifice humans to their gods. It's like that, that we are the high priests, and we are sacrificing this human being to satisfy some kind of a—not religious rite, but a secular rite.
Melathe: Did you feel like one of those high priests too?
Nur: Yeah, exactly. You know, it hits me that I am participating in this, and I am playing a role that they assigned me to kind of legitimize what they're doing, or furnish this religious, spiritual side, where they are providing the secular side of the sacrifice. When you're left to your thoughts, you say, "Ah, see, that's exactly how they planned it." But then I will correct myself and say, "The only reason I'm there is because—if it were not for him wanting me to be there, I wouldn't be there." And by the way, that's when it hit me why he wanted me to be there, because, in that room, I was the only friend he had. The other people there came to kill him. I was the only one he could look [at] and say, "You know, that person doesn't intend any evil towards me."
Melathe: What were you thinking on your drive back?
Nur: I did not expect it to affect me the way it did. It was really traumatic. And I was really angry … I was angry at the whole system that brought us to that point. It's the system that allows them to do that. It's the system that segregates people. It's the system—that's what you need to tackle ... and those who perpetuate it, and those who support it, and those who benefit from it. And you have to address that if you want this to change.