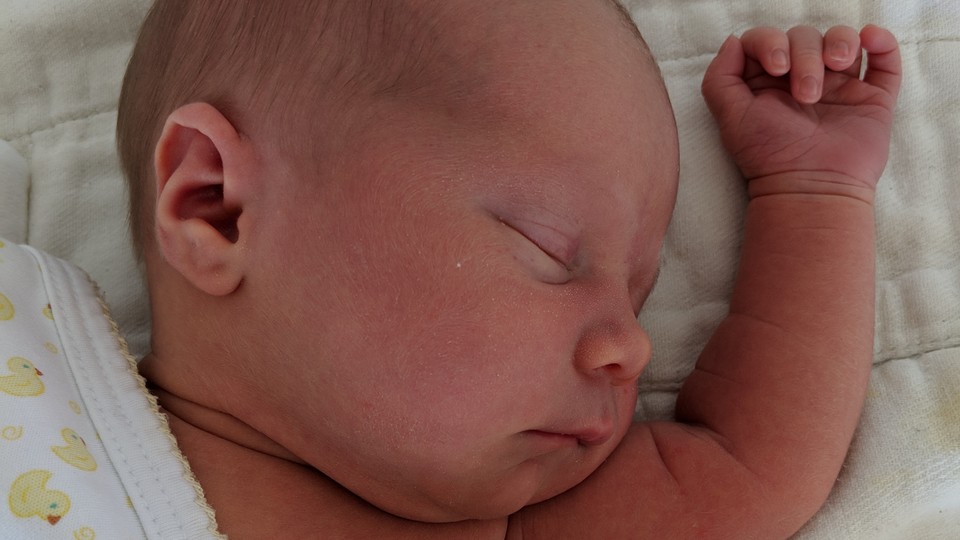 Editor's Note:
This article previously appeared in a different format as part of The Atlantic's Notes section, retired in 2021.
For my wife, Deb, and me in recent years, a big theme has been the renewal of America at the local level. Here's the latest proof:
It comes with the arrival late Friday night of young West Fallows, shown above. She made her appearance just before midnight on September 21 — officially, the last hour of summer — weighing in at 6 pounds and 7 ounces, in Santa Barbara, California.
Her parents, our son Tom and his wife Lizzy Bennett Fallows, are tired, happy, and beginning to reflect on what lies ahead, now that they have three daughters age four and below. Good luck to them all!
Previously in this series: Welcome Jack Fallows in August, 2011; Welcome Tide Fallows, in June, 2014; Welcome Eleanor Fallows, in February, 2015; and Welcome Navy Fallows in May, 2016.
---
It doesn't seem that long ago that Deb and I viewed the concept of grandchildren as a remote possibility, of purely theoretical interest. (Of course, it doesn't "seem" that long ago that we were visiting grandparents of our own. The wheel turns.) Now there are five of the little creatures on hand, which both in concept and in their personal reality we of course find marvelous and delightful. Jack and Eleanor, with their parents Tad and Annie, live in Dallas; Tide, Navy, and now West are with Tom and Lizzy in their new home town of Santa Barbara.
Congratulations to mother, father, big sisters, aunts and uncles, cousins, other grandparents and forebears, and lovely little West.
Update:  Big sisters Tide, age four, and Navy, age two, welcome West Fallows, age three days, to her new home. For how this scene looked two years ago, when Tide welcomed newborn Navy, see here.