Have You Entered Our Instagram Contest Yet?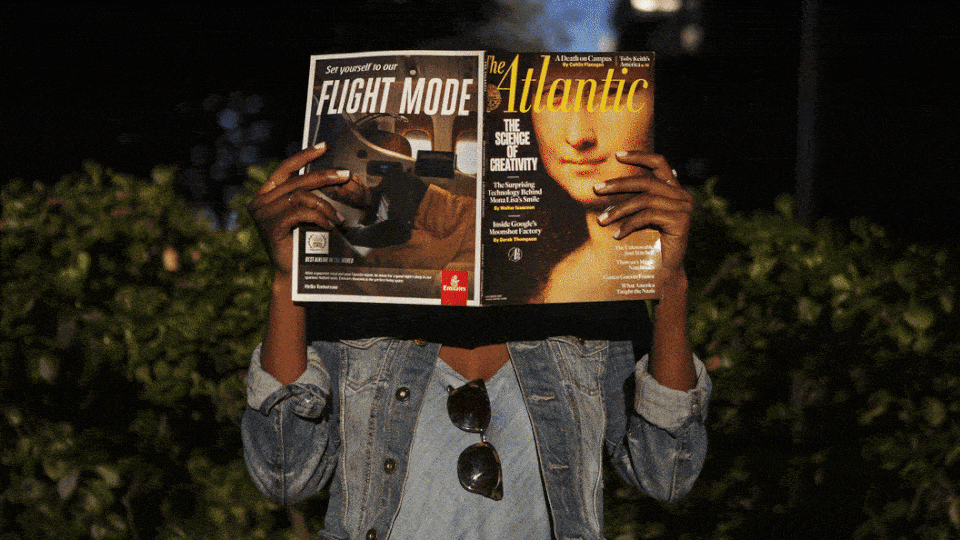 Editor's Note:
This article previously appeared in a different format as part of The Atlantic's Notes section, retired in 2021.
We've noticed some themes in the submissions to our #ReadingMyAtlantic contest. Pets, for one—including this perfectly-posed pup and CityLab editor Adam Sneed's sassy cat Saxby. Variations on hygge, which I am extremely here for as the weather turns. And of course, babies—so many sweet, adorable kiddos. Which brings us to the winner of last month's contest …
Zach Kouwe's four-month-old Josephine won us over with her alert reading posture.
Kouwe, who lives in Brooklyn, New York, says this: "[Josephine] is mesmerized by books and magazines (just like me). We also recently discovered she loves being propped up on the couch as if she's sitting up herself. I just recently got a subscription and this was my first issue so I decided to see if Jo might be as interested as me. She was!" We hope the two of them enjoy the November issue, too!
Speaking of which, the November issue features two cover stories on the topic of creativity: Walter Isaacson on the science behind Mona Lisa's smile and Derek Thompson on Google X and radical creativity. The issue hits newsstands today. So what are you waiting for? Get your copy, get your phone, and show us (through a photo or a Boomerang) where you'll be #ReadingMyAtlantic this month.
Entering is easy: Snap a picture or Boomerang of your November 2017 issue, and share it on Instagram using this hashtag: #ReadingMyAtlantic. This month, we challenge you to include spreads from inside of the magazine, dress it up for Halloween, and show us how you like to foster creativity in your life.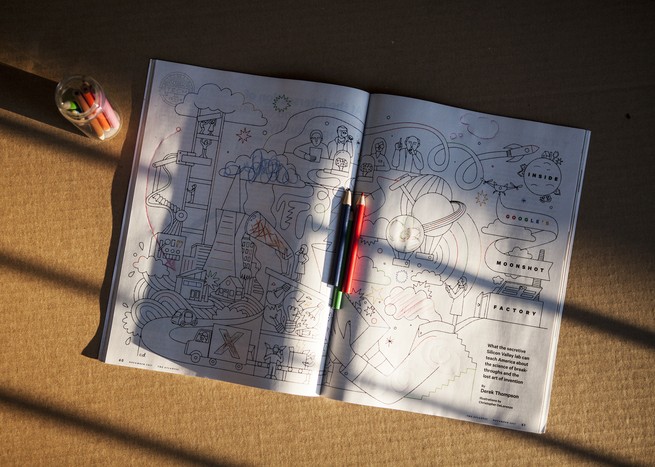 The winner will be notified in early November, and will receive a special prize package that includes a one-year digital subscription (if you're already a subscriber, you can add on to an existing subscription or gift it to a friend), an Atlantic baseball cap, a notebook featuring the cover of our very first published issue, and a poster of the "My President Was Black" cover, highlighting Ta-Nehisi Coates's story from earlier this year. The winner's post will also be shared from our Instagram account, so give us a follow. Full contest rules can be found below.
#ReadingMyAtlantic Contest
OFFICIAL RULES
1. NO PURCHASE NECESSARY TO ENTER OR TO WIN. SUBJECT TO APPLICABLE FEDERAL, STATE, LOCAL AND MUNICIPAL LAWS AND REGULATIONS. VOID WHERE PROHIBITED.
2. Eligibility. Subject to the additional restrictions below, the  #ReadingMyAtlantic Contest (the "Contest") is open to legal U.S. residents of the 50 United States (excluding Puerto Rico) and the District of Columbia who are 18 years or older at the time of entry.  Employees and their immediate family members (spouse, parent, child, sibling and their respective spouses, regardless of where they reside or those living in the same households, whether or not related) of The Atlantic Monthly Group LLC ("Sponsor"), and its respective parent, affiliates, and subsidiaries are not eligible to enter or win.
3. Contest Period. The Contest will begin at 8:00 AM Eastern Time ("ET") on October 17, 2017 and end at 11:59 PM ET on November 6, 2017 (the "Contest Period").  
4.  How to Enter.  The entry period to submit nominations will begin at 8:00 AM ET on October 17, 2017 and end at 11:59 PM ET on November 6, 2017 (the "Entry Period").  To enter, during the Entry Period, post a photo or Boomerang and caption to Instagram of the November 2017 issue of the Atlantic magazine with the hashtag #ReadingMyAtlantic. You may enter up to three photos to the contest.  The authorized account holder of the Instagram account used to submit at time of entry will be considered the entrant.  All photos must be the sole, original work of the entrant or the entrant must have permission from the rights owner to enter it in the Contest.  Photos should be at the highest resolution possible. All entries become property of Sponsor and none will be returned. Contestants acknowledge and agree that Sponsor shall have the right to edit, adapt, modify, reproduce, publish, promote, broadcast, or otherwise display or use entries in any way it sees fit without limitation or compensation to entrants.  Sponsor further reserves the right to disqualify any entry that is alleged to infringe on any third-party's intellectual property rights, or that Sponsor, in its sole discretion, deems obscene, offensive or otherwise inappropriate for viewing by a general audience. Sponsor will not be responsible for incomplete, lost, late, misdirected or illegible entries. By entering, you agree to receive e-mails from Sponsor or those directed by Sponsor.  You can opt-out of the receipt of such emails by following the directions on the Contest website or in any email received from Sponsor.
7.  Winner Selection. One (1) Winner ("Winner") will be determined on or about November 10, 2017, as described below. Decisions of judges and Sponsor shall be final and binding in all respects.
One (1) Winner will be selected by a panel of judges (who are selected by Sponsor) from among the eligible entries based on the following criteria: (i) Photo composition (50%),  (ii) Creative color and light (40%), and (iii) location and caption (10%).  The entrant who receives the highest scores during this judging will be selected as the Winner. In the event of a tie, tied entries will be re-judged based entirely on the "Photo composition" judging criteria.  
8. Prizes. One (1) Winner will receive a one-year digital subscription to The Atlantic, a poster of the January/February 2017 cover, and a limited edition hat and notebook (ARV $60.00). Winner is responsible for any additional options and for all applicable taxes.  Odds of winning depend on the number of eligible entries received.
9. Winner Notification and Acceptance. Winner will be notified on or about 11/10/17 via Instagram direct message. Sponsor will contact during normal business hours.  Failure to reach winner after 3 tries or return of prize notification as undeliverable may result in disqualification and an alternate winner may be selected from among all remaining eligible entries. Winner may waive his/her right to receive prize. Prizes are non-assignable and nontransferable. No substitutions allowed by winner. Prizes and individual components of prize packages are subject to availability and Sponsor reserves the right to substitute prizes of equal or greater value. Winners are solely responsible for reporting and payment of any taxes on prizes. Winners may be required to complete an affidavit of eligibility/liability and publicity release (except where prohibited by law) which must be returned as directed by Sponsor. Failure to sign and return the affidavit or release or to comply with any term or condition of these Official Rules may result in a winner's disqualification, the forfeiture of his or her interest in the prize, and the award of the prize to a substitute winner. Except where prohibited, acceptance of any prize constitutes winner's consent to the publication of his or her name, biographical information and likeness in any media for any commercial or promotional purpose, without limitation the Internet, or further compensation. Prizes not won and claimed by eligible winners in accordance with these Official Rules will not be awarded and will remain the property of Sponsor.
10. Participation. By participating, entrants agree to be bound by these Official Rules and the decisions of Sponsor. Sponsor reserves the right to disqualify persons found tampering with or otherwise abusing any aspect of this Contest as solely determined by Sponsor. In the event the Contest is compromised by a virus, non-authorized human intervention, tampering or other causes beyond the reasonable control of Sponsor which corrupts or impairs the administration, security, fairness or proper operation of the Contest, Sponsor reserve the right in its sole discretion to suspend, modify or terminate the Contest. Should the Contest be terminated prior to the stated expiration date, Sponsor reserves the right to award prizes based on the entries received before and/or after the termination date, or in such manner as deemed fair and appropriate by Sponsor.
11. Release. By entering the Contest (and, if applicable, by receipt of prize), each entrant agrees to release and hold harmless Sponsor and Instagram and each of their respective parent companies, subsidiaries, affiliates, suppliers, distributors, advertising/promotion agencies, and prize suppliers, and each of their respective officers, directors, members, employees and agents (collectively, the "Released Parties") from and against any claim or cause of action, including, but not limited to, personal injury, death, or damage to or loss of property, arising out of participation in the Contest or, for each Winner, receipt or use or misuse of any prize.
12. Limitations of Liability. The Released Parties are not responsible for: (1) any incorrect or inaccurate information, whether caused by entrants, printing errors or by any of the equipment or programming associated with or utilized in the Contest; (2) technical failures of any kind, including, but not limited to malfunctions, interruptions, or disconnections in phone lines or network hardware or software; (3) unauthorized human intervention in any part of the entry process or the Contest; (4) technical or human error which may occur in the administration of the Contest or the processing of entries; (5) late, lost, undeliverable, damaged or stolen mail; or (6) any injury or damage to persons or property which may be caused, directly or indirectly, in whole or in part, from entrant's participation in the Contest or receipt or use or misuse of any prize.  If for any reason an entrant's entry is confirmed to have been erroneously deleted, lost, or otherwise destroyed or corrupted, entrant's sole remedy is another entry in the Contest unless it is not possible to award another entry due to discontinuance or completion of the Contest.   No more than the stated number of prizes will be awarded.
13.  Copyright.  By entering the Contest, each entrant grants to Sponsor a non-exclusive, royalty-free and irrevocable right and license to publish, print, edit or otherwise use the contestant's submitted entry, in whole or in part, for any purpose and in any manner or media (including, without limitation, the Internet) throughout the world in perpetuity, and to license others to do so, all without limitation or further compensation. Each contestant further agrees that if his/her entry is selected by Sponsor as the winning entry, he/she will sign any additional license or release that Sponsor may require.
14. Choice of Law.  These rules shall be governed by and shall be construed in accordance with the laws of the District of Columbia. Any dispute, controversy or other claim arising out of these rules shall be resolved in an appropriate court within the District of Columbia.
15. Construction. The invalidity or unenforceability of any provision of these rules shall not affect the validity or enforceability of any other provision. In the event that any such provision is determined to be invalid or otherwise unenforceable, these rules shall be construed in accordance with their terms as if the invalid or unenforceable provision was not contained therein.
16. Sponsor, Winners List and Official Rules. The #ReadingMyAtlantic Contest is sponsored by the Atlantic Monthly Group LLC, 600 New Hampshire Avenue, N.W., Washington, DC 20037 ("Sponsor"). The decisions of Sponsor regarding the selection of winners and all other aspects of the Contest shall be final and binding in all respects. Sponsor will not be responsible for typographical, printing or other inadvertent errors in these Official Rules or in other materials relating to the Contest. This Contest is in no way sponsored, endorsed or administered by, or associated with, Instagram.  For a list of winners (available after September 30, 2017) or a copy of these Official Rules, visit www.theatlantic.com/instagramcontest or send a self-addressed, stamped envelope (Vermont residents need not affix return postage) to "Winners List/Official Rules" (as applicable), #ReadingMyAtlantic Contest, 600 New Hampshire Ave., NW, Washington, DC 20037. If you have any questions regarding this Contest, please contact Emily Jan at ejan@theatlantic.com or call 202-266-7000.